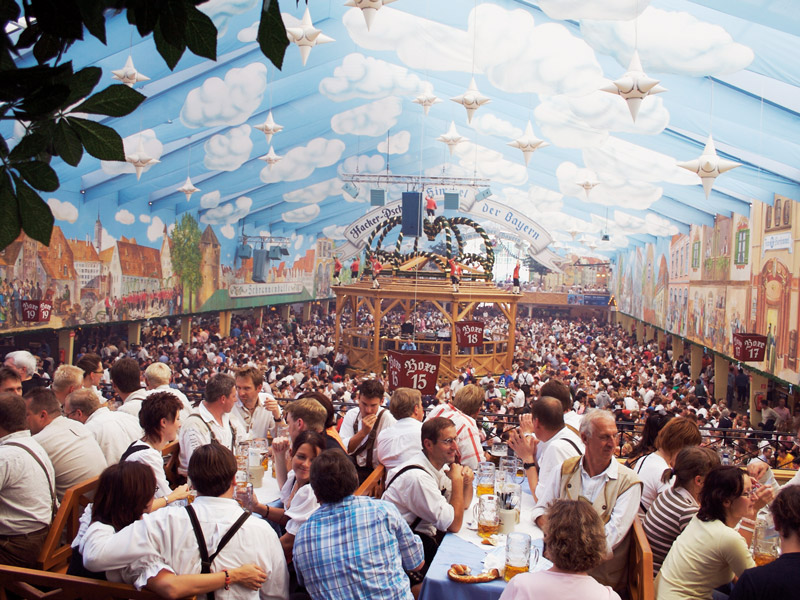 Hacker-Festzelt, © NEW IN THE CITY
Six million litres of beer are drunk, 530,000 chickens and 117 oxen are eaten, there are 4,500 lost property and six million visitors. These staggering statistics best describe the world-famous Oktoberfest (Munich people shortly call it "Wiesn"), the biggest public festival in the world taking place from end of September on Theresienwiese.

The Oktoberfest started off as a horse race to celebrate the wedding of Crown Prince Ludwig and his bride Therese Charlotte Luise in 1810. Now Germans, English, Australians, Japanese, Italians and many other nationalities make annual pilgrimages to this beer-drinking party.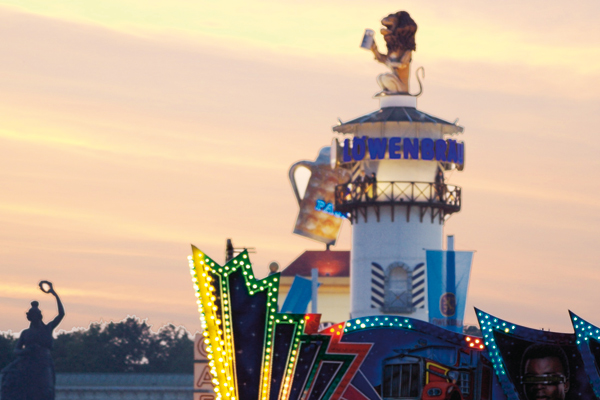 In 14 beer tents revellers dance on the tables, sing and most of all drink accompanied by live bands. The Hacker Pschorr tent and Schottenhamel tent are particularly popular among young people and many couples have met here - even if just for a short time. In Schottenhamel tent each year at 12 pm on the first day of Oktoberfest, the mayor of Munich is traditionally tapping for the first time.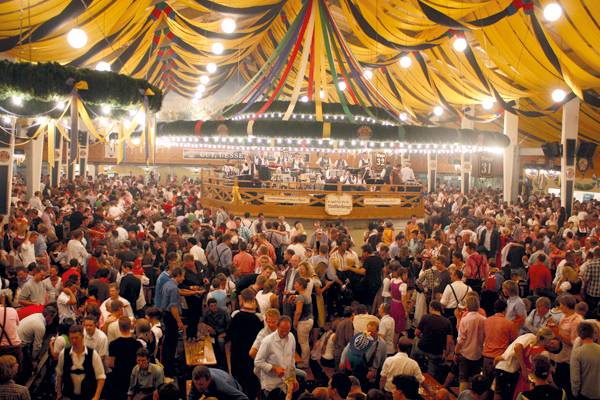 The atmosphere is just as hot in the biggest tent, the 9,800-seat Hofbräu-Festhalle. This tent caters mainly for an international crowd. The young and the famous alike like the Hippodrom. The Käfer tent is where the stars and celebrities party among their own kind. And in Augustiner-, Armbrustschützen-Festhalle or Fischer-Vroni it´s more quiet and peacefull.

If you want a seat in one of the beer tents, especially at weekends, get there at midday because a lot of tents close their doors as early as 2pm due to over crowding – although if you're very patient and lucky you might be able to get into the cheerful madhouse by skipping past a bouncer at a side door.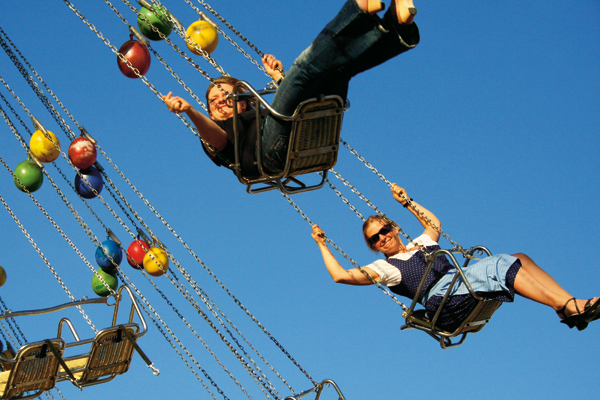 The huge funfair is another highlight of this mega-party. And anyone who dares to ride the roller coaster after three litres of beer shows true greatness! Apart from that for every newcomer, Teufelsrad on which you - accompanied by the teasing presenter and the hooting spectators - should stand as long as you can to emerge victorious, or the humorous morbid theater program of "Auf geht´s beim Schichtl" are a must!

The colorful spectacle is permeated with the flavor of barbecued chicken and sausages, roasted almonds, sweet cotton candy and many more treats, which make your mouth water!

Therefore it´s no big surprise that this unique festivity draws thausands of visitors from all over the world, (whether with or without traditional costumes) and that consumption is correspondingly high. You should have taken part in this great experience at least once in a lifetime!
Good to know - important dates, links & information
›› Getting there: U4/U5-Theresienwiese
›› Opening hours beer tents: on weekdays 10 am-11.30 pm, weekends & holidays 9 am, Käfer´s Wiesnschänke & Weinzelt until 1 pm
›› Opening hours fun rides: 10 am-11.30 pm, Fri & Sat until 12 am
›› Arrival of Festwirte (landlords & breweries): 1st day 10.45 am-12 pm
›› Family days: reduced prices each Tues 12 pm-6 pm
›› www.oktoberfest.de
›› The most beautiful Munich shops selling traditional costume
›› Munich beer and Oktoberfest museum