Looking for a place to live in Munich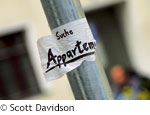 Above almost everything else property market developments have been foremost in the minds of Munich residents for the past 10 years and newcomers need to have a lot of patience when looking for a place to live. For the moment, all the signs indicate that the hotly contested residential market will remain tense despite a slight drop in rents for properties rented for the first time. Therefore you'll likely pay € 19.65 per sq m in a new apartment, 4 percent more than in the previous year. On the other hand rents for successor tenants reached a record high average of € 16.77 per sq m for the first time in 2017.
Housing associations and real estate agents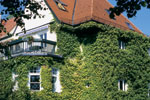 In case you want to find a new apartment fast and without putting in too many hours you may, of course, contact a real estate agent. The brokerage usually equals the rent for two or three months and must be paid once the lease agreement is signed - not the most inexpensive way of finding a new home. On the other hand real estate agents offer a wide variety of homes and help you find the place most suitable to your needs and desires. Another great strategy is to join one of the numerous housing agencies. Those usually own various apartment buildings throughout the city. In Germany there are currently more than 2.000 cooperative building associations.
They are in charge of more than two million apartments and have about three million members. In Berlin alone there are 80 such housing cooperatives with more than 180,000 apartments, equaling ten percent of the city's apartments in total. Cooperatives only lease their apartments to members. As a member you can keep your apartment as long as you wish. In addition, you are not in danger to get evicted because the landlord needs the apartment himself. The lease agreement assures every member a right to an apartment for life. Here we have listed a selection of housing cooperatives and real estate agents in Munich...