New to Munich? We'll help you to move and settle in.
Out now – the NEW IN THE CITY Munich 2022 issue for all newcomers to Munich!
Starting over is easy!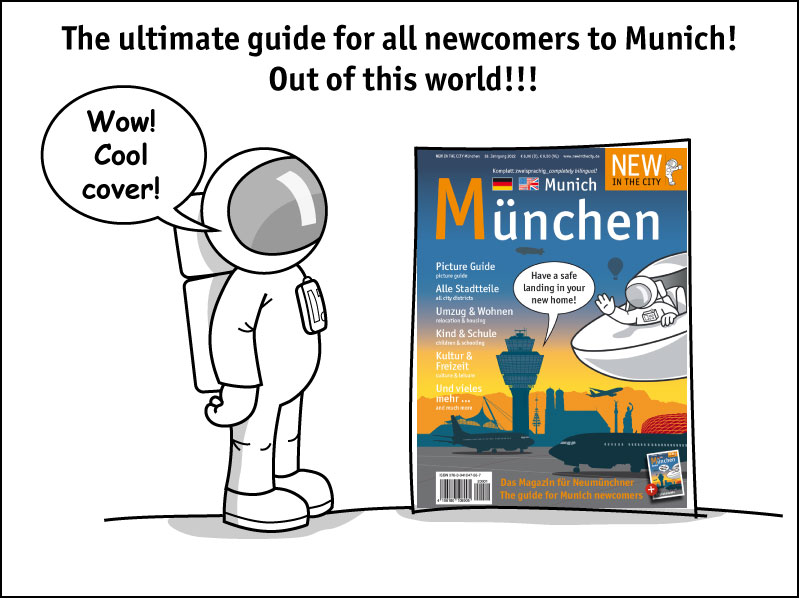 Freshly printed and, as always, also available as a practical eBook – NEW IN THE CITY Munich gives newcomers to Munich a super-fast overview of their new home without having to do a lot of research on the Internet.
We provide useful information about moving and help you to find a place to live. We also list the best locations in the city in the areas of leisure, sport, trendy places, gastronomy, shopping and culture. Easy to follow, entertaining and, as usual, completely bilingual!!
Information on education and careers as well as on childcare and schools is available at a glance.
Our mascot "the little astronaut" will lead you through the magazine with lots of charm and humor.
Also great is a picture guide over five double pages. They say a picture is worth a thousand words, so lots of pictures are worth …
So, if you are in new in Munich too, don't waste any time -- order the print edition in our shop or download the interactive eBook and click through!
Enjoy! 
Your NEW IN THE CITY Team