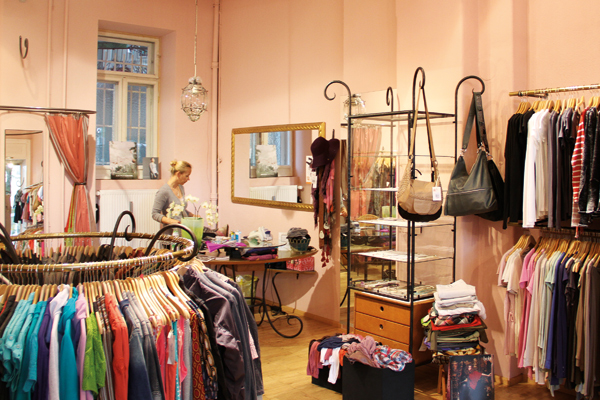 Venus
Glasses
---
Docks

Here an unhurried coffee at the bistro table is as enjoyable as the competent advice and the most modern appliances. On offer: glasses collections from the top designers, glasses for work, sunglasses and contact lenses.
››
Schwabing, Kurfürstenplatz 3, Tel. 273 20 30, www.docks-optik.de
Freudenhaus Eyewear

Munich's classy opticians, international clients, horn, titanium and plastic frames, excellent consultations.
››
Altstadt, Odeonsplatz 15, Tel. 33 33 36 & Theatiner Str. 32, Tel. 25 55 69 88
››
Store im Ludwig-Beck-Kaufhaus, Altstadt, Marienplatz 11, Tel. 21 02 07 89
››
Schwabing, Leopoldstr. 37, Tel. 33 33 30
››
www.freudenhaus.com
Optik Hartogs

Everything from top designers to chic cheap sunglasses from the vending machine. Worth a regular visit just to see the ever-changing store displays.
››
Schwabing, Leopoldstr. 27, Tel. 33 33 12, www.optikhartogs.de
Scharf Augenoptik

Glasses from hip designers, from Boss to Gucci. Store with a classy look.
››
Augenoptik: Schwabing, Leopoldstr. 54, Tel. 33 20 24
››
Schaukasten: Schwabing, Hohenzollernstr. 32, Tel. 330 660 84
››
www.scharfaugenoptik.de
››
Back
Women
---
Agent Provocateur

In the Kaufhaus der Sinne store – one of the label's largest in the world – the offerings range from sinfully beautiful (and expensive) lingerie to exciting accessories and beauty products.
››
Altstadt, Burgstr. 2/Kaufhaus Ludwig Beck, Tel. 54 57 26 72, www.agentprovocateur.com

Corneliusladen

Pretty women's clothes and shoes, including single pieces from Missoni M, Turnover, Dept and Cinque. Jewelry from Thomas Sabo rounds off the offerings at this nice store.
››
Isarvorstadt, Corneliusstr. 29, Tel. 2 01 45 16, www.corneliusladen.de

EvE Exclusive

This store offers its own line of evening gowns, as well as tailor-made gowns and robes, plus accessories such as hats, bags and jewelry.
››
Haidhausen, Grillparzerstr. 49, Tel. 92 37 96 74, www.eve-exclusive.de

Feenkleid

Designer fashion, knitwear and home accessories from their own workshop, but also by Petra Mark, Sessun and Charlotte Hoyem, as well as matching accessories by zussa and kae-berlin.
››
Haidhausen, Kirchenstr. 5, Tel. 53 88 96 60, www.feenkleid.de, www.anne-schuetz.de

Hautnah

Exclusive women's lingerie and beachwear.
››
Schwabing, Belgradstr. 1, Tel. 300 56 37, www.hautnah-dessous.com

La Rose Noire Couture

Very exclusive day and evening wear for women, also bridal wear, from a Munich label. Each piece is one of a kind.
››
Altstadt, Pacellistr. 5, Tel. 29 16 56 66, www.la-rose-noire-couture.de

Miss Sixty

See young fashion.
››
Altstadt, Neuhauser Str. 5, Tel. 23 00 02 76
››
Schwabing, Hohenzollernstr. 11, Tel. 33 02 90 81
››
www.misssixty.com

Noa Noa

Noa Noa's world of fashion has now conquered Munich. With not one, but two shops, the Nordic fashion label brings its playfully feminine style to the women of Munich. It doesn't matter whether it's a chiffon dress or a coat – every part of the collection scintillates with a breath of bohemianism. Great: the children's label Noa Noa miniature lets the little ones dress up in the same look.
››
Isarvorstadt, Reichenbachstr. 41, Tel. 37 91 35 94
››
Maxvorstadt, Schellingstr. 18, Tel. 87 59 82 83
››
www.noanoa.com

Petra Mark

Chic and eccentric clothes for women, unique creations recycled from discarded fabrics, like old mail sacks.
››
Schwabing, Amalienpassage, Tel. 26 02 29 45, www.­petramark.de

Radspieler

See home accessories.
››
Altstadt, Hackenstr. 7, Tel. 23 50 98-0, www.radspieler.com

Siebter Himmel

See young fashion.
››
Isarvorstadt, Hans-Sachs-Str. 17, Tel. 26 02 31 50, www.siebterhimmel.com

Stephanie Rapp

Munich designer label with an internationally presented collection of cocktail and evening wear as well as wedding dresses, design and production of custom special designs.
››
Sendling, Welserstr. 23, Tel. 74 37 27 30, www.stephanierapp.de
Virmani

The exclusive women's fashion by Virmani takes timeless elegance and adds cool nonchalance to attain an individual ethnic look that – inspired by the fashion of India – will satisfy even demanding customers.
››
Schwabing-West, Hohenzollernstr. 35, Tel. 33 04 00 20
››
www.virmani.de
Wolford

World-famous Austrian luxury fashion, hosiery and bodies, also skirts, dresses, trousers, underwear and swimwear.
››
Altstadt, Maximilianstr. 34, Tel. 24 20 47 62
››
Altstadt, Weinstr. 6, Tel. 21 02 08 03
››
www.wolford.com
››
Back
Men & women
---
Dolzer Maßkonfektionäre
Europe's largest custom tailor offers literally "fitting" attire for him and her: shirts, suits and womens wear, the first dress coat, the first tuxedo or the first business suit are professionally, patiently and expertly tailored with passion – all at moderate prices.
››
Freimann, Wilhelm-Wagenfeld-Str. 18, Tel. 32 21 19 94, www.dolzer.de
Filippa K

This Swedish label's stores can be found throughout the world – including Munich's upscale shopping street, Maximilianstraße. Top quality jewelry is presented professionally and with style here and the show rooms impress with their minimalist design, clear lines and calm ambience.
››
Altstadt, Maximilianstr. 13, Tel. 24 20 39 88, www.filippa-k.com
Jeans Kaltenbach

Four floors of jeans and other trendy fashion. Kaltenbach has Munich's biggest choice. Whatever you like, the choice is not easy here with all current labels as selected brands such as Kuyichi.
››
Altstadt, Herzogspitalstr. 4, Tel. 2 60 31 03, www.jeans-kaltenbach.de
Konen

Fashion followers find all they could wish for at Konen, whether they are large or small, young or old, cool or elegant. The latest style trends for women, men and children are showcased on 13,000 sq m and in the Young Fashion and Design sections, everyone will find something they like. Friendly service, personal advice and made-to-measure clothes are part of the service. Brands include Boss Orange, Drykorn, Max Mara, Pepe Jeans, Closed, Belstaff, Aeronautica, and many more.
››
Altstadt, Sendlinger Str. 3, Tel. 2 44 42 20, www.konen.de
Lacoste

Opened in 2006 in Munich Town Hall in cooperation with Sport Münzinger, Germany's largest Lacoste flagship store offers the complete fashion and lifestyle range of the French fashion sport brand over two stories: shirts, shorts, sweaters, dresses, bags, shoes and accessories – all with the embroidered crocodile.
››
Altstadt, Marienplatz 8, Tel. 29 03 00, www.lacoste-muenchen.de
Loden-Frey

A big name in Munich's fashion world not just because of its traditional costumes and loden textiles. This long-established store in the Altstadt (Old City) also sells high-quality and always up-to-date designer fashions for women and men, including the labels such as Armani Collezioni, Burberry, See by Chloé, Woolrich and Kenzo.
››
Altstadt, Maffeistr. 7, Tel. 21 03 90, www.loden-frey.com
Menü 12

The emphasis is on pampering here. The extraordinary boutique near Gärtnerplatz square does everything it can to make its customers perfectly happy: breakfast and little snacks at the day bar, international fashion for him and her on the racks and many individual gifts and accessories that appeal to all the senses.
››
Isarvorstadt, Reichenbachstr. 12, Tel. 24 22 35 23, www.menu12.com

Meschugge

Here you can find not only fashion "made in Berlin" by, among others, Kaviar Gauche, Penkov and Io Berlin, but also international fashion design by Fiona Bennett and Met Jeans mixed among the popular clothes. Young artists from the capital city add to the creative feeling of the shop with periodic art exhibitions and parties.
››
Maxvorstadt, Türkenstr. 54, Tel. 27 37 50 28, www.meschugge54.de
Off & Co

No longer a secret: Besides top designer clothes for men and women, waiting to be discovered here are shoes, beauty items and interior home accessories.
››
Schwabing, Belgradstr. 1 & 5, Tel. 300 21 53, www.offandco.de
Projekt 3

Friendly but elegant atmosphere and even a bar, best quality fabrics by top designers such as Hugo, Cinque, French Connection or Divina, cool, chic or even both.
››
Maxvorstadt, Türkenstr. 71, Tel. 27 77 99 03, www.projekt3fashion.de
Pure

Greetings from Milan! Pure attracts fashion-conscious Munich citizens with puristic fashion by more-or-less unknown Italian designers such as Vintage 55, Soma and Gaspari. Whether a casual leisure-time look or the perfect business outfit – all clothing articles here have a certain portion of extravagance and class.
››
Isarvorstadt, Reichenbachstr. 20, Tel. 20 20 52 04
Ralph Lauren

An exclusive ambience, first-class location and the latest collection by American designer Ralph Lauren make this luxury store glow – and many celebrities come by to appreciate this.
››
Altstadt, Maximilianstr. 23, Tel. 22 37 31, www.ralphlauren.de
››
Back
Men
---
Ermenegildo Zegna

This Italian, family-owned company offers luxury fashion and accessories for men in 60 countries.
››
Altstadt, Maximilianstr. 11-15, Tel. 24 29 76 85, www.zegnaermenegildo.com
Hirmer

The world's biggest menswear store on six floors covering 7,000 sq m and offering everything from the sporty casual look to the perfect business outfit. The fourth floor specializes in extra large sizes. Good service is also big here. Male shoppers benefit from the professional tailoring service and advice from over 160 excellent sales staff. An especially good service is the personalized advice from your own personal fashion advisor, also available in different languages.
››
Altstadt, Kaufingerstr. 28, Tel. 23 68 30, www.hirmer.de
Seisser & Cie

Classic menswear, top male accessories including luggage and unusual pieces.
››
Maxvorstadt, Briennerstr. 10 (Arco-Palais), Tel. 28 80 62 40, www.seisser.de
Wormland

Leisure-time and business look by top designers such as Hugo Boss, Strellson, Joop, Cinque, Replay and many others; before setting off, you can make an appointment with a fashion advisor for a personal consultation.
››
Altstadt, Marienplatz 28, Tel. 2 36 63 40, www.wormland.de
››
Back
Young fashion
---
7. Himmel

When you enter the colorful, lovingly decorated store of owner Solveig Zecher, you land directly in the 7th heaven of fashion: in a relaxing atmosphere, you can browse through a well-arranged and varied assortment of trendy young fashion from labels such as Pepe, Bench, Skunkfunk and Blutsschwester, but also smaller unknown brands that have yet to be discovered; price categories from mid-range to inexpensive. By the way, you can find suitable shoes by e.g. Puma, Bronx and Irregular Choice diagonally opposite in the Schuhhimmel (shoe heaven).
››
Isarvorstadt, Hans-Sachs-Str. 17, Tel. 26 70 53, www.siebterhimmel.com
American Apparel

Fashion with a clear conscience. These cotton products are all manufactured in the USA. Workers earn double the usual minimum wage. Single tone shirts, skirts, bikinis, with no visible logos.
››
Altstadt, Sendlinger Str. 24, Tel. 23 88 84 64, www.americanapparel.net
Apartment20

One of Schwabing's hottest boutiques for trendsetters. Apartment 20 boasts hippy interior architecture with one room done in the American 50s style. On offer: D&G, Diesel, Galliano, Marc Jacobs, Tom Ford and many others. Homewear department with underwear from Schiesser and jogging suits from nakid design. In-house care line with products for women and men.
››
Schwabing, Hohenzollernstr. 20, Tel. 39 15 19, www.apartment20.de
COS

Hot designer fashion at fair prices – this is the slogan of the COS shops in Munich. So if you are looking for a stylish new outfit and don't want to spend a fortune, you will certainly find what you need here.
››
Altstadt, Weinstr. 3, Tel. 21 02 17 74
››
Schwabing, Hohenzollernstr. 12, Tel. 33 01 91 09
››
www.cosstores.com
Diesel Store

Munich branch of the globally popular fashion store known especially for their popular jeans, plus natural shirts, skirts, shoes, bags, sunglasses and accessories for the perfect all-round Diesel look.
››
Altstadt, Residenzstr. 3-4, Tel. 21 02 17 20, www.diesel.com
George Frank

Every person is unique. That's why you can have your individual T-shirt printed here. Choose from various shirt shapes and sizes, 200 motifs and 30 printing colors. You may also have your individual text put on a shirt.
››
Schwabing, Amalienstr. 47, Tel. 28 89 07 95
››
Isarvorstadt, Reichenbachstr. 28, Tel. 20 20 93 29
››
www.georgefrank.de
Grace

Multi-label store with a great selection of the latest collections by famous designers such as D&G, Hugo Boss, Michael Cors and Belstaff, plus a small selection of suitable bags, shoes and sunglasses.
››
Altstadt, Neuhauser Str. 47, Tel. 54 50 60 22, www.grace-muenchen.de
Kauf dich glücklich

Sometimes it's so easy to get happy... such as going shopping in this nice shop with the tried-and-tested two-in-one principle: On one hand you can buy chic fashion, bags and shoes, on the other relax upstairs on soft sofas and fortify yourself with homemade waffles and ice cream.
››
Isarvorstadt, Reichenbachstr. 14, Tel. 25 54 92 69, www.kaufdichgluecklich.de
Kleider machen Leute

It's fun to shop in the Gärtnerplatz area, especially as you can always make a new discovery such as this store run by fashion designer Johanna Maier. Besides individual fashions from Turnover or Nolita, the store has a very special service – individual style and body type advice, personal shopping and tours of the city's fashion hot spots. The best way to avoid those annoying bad buys!
››
Isarvorstadt, Reichenbachstr. 10, Tel. 13 93 84 93, www.kleidermachenleute-shop.de
Miss Sixty

Italian label for cool, young women who love fashion jeans with playful details or accessories.
››
Altstadt, Neuhauser Str. 5, Tel. 23 00 02 76
››
Schwabing, Hohenzollernstr. 11, Tel. 33 02 90 81
››
www.misssixty.com
Pool

Marketed under the sub-heading Fashion, Music, Lounge, after-hour parties and promotion evenings, designer labels, very trendy and unusual stuff.
››
Altstadt, Maximilianstr. 11, Tel. 26 60 35 & Kreuzstr. 14, Tel. 23 70 29 14, www.verypoolish.com
Slips

As well as underwear also hip fashion for men and women, plus cosmetics and modern accessories.
››
Isarvorstadt, Am Gärtnerplatz 2, Tel. 20 22 500, www.slipsfashion.de
Stierblut

Ladies and gentlemen's wear in two neighboring shops, skirts, trousers, T-shirts, coats, sweaters and shoes; well-known manufacturers such as Galliano, Hugo and Patrizia Pepe.
››
Altstadt, Sendlinger Str. 35 & 37, Tel. 23 08 73 85, www.stierblut.de
Venus

Everything for the modern goddess: huge selection of jeans, from washed to clean, by Pepe Jeans, Meltin' Pot and Mavi, among others; short- & long-sleeved shirts in every color by American Vintage; jackets and coats by e.g. Bench, as well as chic, playful dresses; young fashion from Skunkfunk, Kookai and nümph. Also a large selection of bags and jewelry by brasi&brasi and Snö of Sweden. In short: sporty-brassy fashion with a touch of elegance. Furthermore, the good suggestions are a big help.
››
Haidhausen, Wörthstr. 1, Tel. 48 56 87, www.venus-muenchen.de
Wandelbar

Fashion for women and men, presented in a stylish and cozy feel-good ambience. The brands Armani Jeans, Belstaff, Boss, Girbaud and Guru are sold here, amongst others.
››
Isarvorstadt, Gärtnerplatz 1, Eingang Klenzestraße, Tel. 20 20 70 03, www.wandelbar-muenchen.de
››
Back
Jewelry & accessories
---
Anja Angelone

Endless accessories for any occasion: belts, bags, earrings, bracelets, chains, rings and decorations for mobile phones.
››
Maxvorstadt, Nordendstr. 17, Tel. 27 27 22 97, www.anjaangelone.de
Bayerischer Kunstgewerbe-Verein

High-class store selling contemporary applied art. The stock includes jewelry, silver, ceramics, glass items, wooden objects, textiles, leather and paper goods. In the Applied Arts Gallery there are regularly changing exhibitions on various applied arts themes.
››
Bayerischer Kunstgewerbe-Verein e.V., Galerie für Angewandte Kunst, Altstadt, Pacellistr. 6-8, Tel. 2 90 14 70, www.kunsthandwerk-bkv.de
Carl Glück

Jeweller since 1828, offering a large selection of watches and professional repair service.
››
Altstadt, Maffeistr. 4, Tel. 22 62 87, www.carl-glueck.de
Heubel Jewelry

Schwabing's cute little jewel-box, bags, brooches and accessories, great interior.
››
Schwabing, Hohenzollernstr. 25, Tel. 33 03 75 82, www.heubel.de
H. Stern

International jewelry designer, who has a great number of prominent Hollywood stars as clients. The flagship store in Munich is suitably located in the noble Fünf Höfe and still offers affordable jewelry.
››
Altstadt, Fünf Höfe, Theatinerstr. 12, Tel. 24 44 60-60, www.hstern.net
Isy´s

Eccentric international accessories from odd bags to belts and jewelry, also fashionable clothes.
››
Altstadt, Sendlinger Str. 25, Tel. 2 32 25 80 51
Kiki Haupt

Way-out or pretty, but certainly unique handbags and wallets, designed by Kiki Haupt from Munich and sold all over the world, even to celebrities.
››
Schwabing, Herzogstr. 89, Tel. 30 76 79 69, www.kikihaupt.de
König - fine jewelry

Jewelry items by well-known designers: necklaces, rings, bracelets and cuff-links.
››
Schwabing, Nordendstr. 44, Tel. 22 80 75 01, www.juwelier-koenig.de
Mädel

"The best of yesterday" is the motto of Michaela Mädel. From clothes to furnishings, everything from the 50s to the 70s can be found here.
››
Isarvorstadt, Jahnstr. 20, Tel. 26 41 52, www.maedel-objekte.de
Nicki Marquardt, Hutmacherin

"The hat must match the face," says Nicki Marquardt. None of her designer hats are blatant or dramatic. They have a special line and all are one of a kind of course.
››
Maxvorstadt, Türkenstr. 78, Tel. 28 80 80 01, www.hutdesign.de
Roeckl

Traditional Munich glover, established in 1839, gloves and accessories, with branches all over Germany and abroad, offering top quality leather gloves for women and men, silk kerchieves, mufflers and knitted goods.
››
Altstadt, Sendlinger Str. 1, Tel. 26 65 18
››
Altstadt, Maffei­str. 1, Tel. 29 16 82 39
››
Altstadt, Marienplatz 8, Tel. 21 04 39 00
››
www.roeckl.com
Swatch Store

The famous Swiss watch-maker offers a huge selection of trendy watches in its flagship store on Marienplatz.
››
Flagship Store: Altstadt, Marienplatz 26, Tel. 23 00 0-8 97, -898, www.swatch.com
Tiffany & Co.
One of five branches in Germany of this luxury jewellers chain, top-class watches and jewelry.
››
Altstadt, Residenzstr. 11, Tel. 290 04 30, www.tiffany.com
Tinissima

Goldsmith's workshop featuring beautiful creations by local designer Christine Berger, fun original rings, earrings, chains and bangles, mainly solid silver and tarnished 900-carat gold.
››
Haidhausen, Pariser Str. 31, 44 10 95 92, www.tinissima.de
Tragbar

Jewelry by three Munich designers, e.g. silver letter rings by Sarah Lierl as well as the unmistakable miniature jewelry boxes of Anne Gericke.
››
Ludwigsvorstadt, Zenettistr. 33, 76 70 39 74, www.tragbar.info
››
Back
Shoes
---
Absatz
Chic lamps and wallpaper are eye-catchers in this shop, as are the exclusive shoe models from the latest collections by Marc Jacobs, L'autre Chose and Fiorentini & Baker. In addition, fashion-conscious Schwabing women can find a handbag and other accessories, such as gloves or belts, that fit any pair of shoes.
››
Schwabing, Hohenzollernstr. 33, Tel. 3 8 88 99 92, www.der-absatz.de
Atelier Fusaro Shoes

Did you know that German model Heidi Klum and actor Til Schweiger have their own line of shoes? Aside from these, this little shop mainly offers designer clogs, Birkenstock and other comfortable health shoes. Online shopping available.
››
Isarvorstadt, Corneliusstr. 18, Tel. 2 01 45 00, www.fusaro.de
Eduard Meier

The oldest shoe shop in Munich, family owned since 1596, many famous customers, enormous choice, hand-stitched shoes, cleaning and polishing lotions according to in-house recipes.
››
Altstadt, Residenzstr. 22, Tel. 22 00 44
››
Maxvorstadt, Brienner Str. 10
››
Tel. 22 00 44, www.edmeier.de
Georg Horsch

Monolabel store with shoes and accessories for women and men from Horsch in extra small and extra large shoe sizes.
››
Ludwigsvorstadt, Sonnenstr. 32, Tel. 55 58 75, www.horsch-schuhe.de
Lieblingsstück

The small, friendly store in the center of Haidhausen is true to its name. Lots of Lieblingsstücke (favorite things) can be found on the shelves: shoes, bags and jewelry to fall in love with!
››
Haidhausen, Johannisplatz 16, Tel. 44 42 96 81
Milla

This small, sweet shoe shop at Wiener Platz is still an insider tip. Female shoe shoppers know why. Despite its small size, you'll find the right shoe for every occasion, whether it's feminine ballerinas or ankle boots by Alberto Fermani.
››
Haidhausen, Innere Wiener Str. 46 (am Wiener Platz), Tel. 4 80 26 71, www.millashoes.com
Morgantini

If you're searching for a stylish pair of shoes, you should certainly look into Morgantini on Gärtnerplatz; you'll be enticed by models for ladies and gentlemen by Belstaff, Fermani and Vic Matié. Bags u.a. by Coccinelle, stylish accessories and professional advice can also be found here.
››
Isarvorstadt, Reichenbachstr. 16, Tel. 26 01 88 80, www.morgantini.de
Navyboot

This stylish Swiss lifestyle brand has brought a breath of fresh air into the Bavarian capital's fashion world with this clearly laid out and puristic stores. Items such as high-class high-heeled shoes or trendy boots and matching bags and accessories wait to be admired, tried on and, of course, purchased in the sales area covering more than 100 sq m.
››
Altstadt, Dienerstr. 19, Tel. 21 02 18 51
››
Flughafen, Terminal 2, Ebene 4, Tel. 97 58 62 45
››
www.navyboot.ch
Schritt für Schritt

Comfortable, footfriendly shoes made from naturally tanned leather, extravagant designs by Camper, Think, Clarks and other brands.
››
Isarvorstadt, Klenzestr. 37, Tel. 201 44 60, www.schrittfuerschritt.com
Schuh-Bertl

High-class handmade double-stitched and welted shoes as well as traditional Bavarian clothes.
››
Isarvorstadt, Kohlstr. 3, Tel. 29 71 62, www.schuh-bertl.de
Schuhhimmel

See Siebter Himmel, fashion.
››
Isarvorstadt, Hans-Sachs-Str. 18, Tel. 26 02 31 50, www.siebterhimmel.com
Selve

The utmost in individual style: creative customers can design their own shoes to their own specifications. Leather and color, heels, sole material – everything can be individually selected and combined. The Selve collection comprises all types of women's shoes from flats to high heels and boots.
››
Altstadt, Sendlinger Str. 29 (courtyard 1.OG), Tel. 24 23 18 00, www.selve.net
Unique Schuhe & Café

Enjoy a cup of coffee not before or after shopping, but rather while you shop. Women's and men's shoes from Kenzo, Baldinini, Roberto Cavalli and Vanzetti as well as chic accessories such as belts and bags.
››
Altstadt, Ledererstr. 14, Tel. 24 20 92 22, www.unique-shoes.de
Zoom

Munich's reputation of being the "most northern city in Italy" is confirmed if you stroll through the popular Gärtnerplatz quarter – here you will find lots of chic shoe stores like Zoom. The shoes and bags on offer here win you over with their stylish design. Naturally – how could it be otherwise? – they're made in Italy.
››
Isarvorstadt, Reichenbachstr. 25
››
Back
Second hand
---
Gabin

Second-hand designer wear for women and men: suits, coats, jackets, shirts, shoes, dresses and accessories.
››
Schwabing, Georgenstr. 46 (Eingang Kurfürstenstr.), Tel. 33 06 62 96, www.gabin-secondhand.de
ReSales - second hand & more

High-quality secondhand fashion as far as the eye can see: in the many Munich branches of the largest chain of secondhand stores in Germany, dreams of fashion really do come true – and at very fair prices. The selection is huge, ranging from fashionable and trendy clothing for every day for him and her to children's fashion, shoes and accessories to fancy evening wear, saucy dirndls and lederhosen as well as noble designer clothing. Of course, you can also find new things – including an impressive selection of traditional fashions – at unbeatable prices.
››
Altstadt, Sendlinger Str. 21
››
Haidhausen, Weißenburger Str. 32
››
Ludwigsvorstadt, Sonnenstr. 2
››
Ludwigsvorstadt, Lindwurmstr. 82
››
www.jeden-tag-was-neues.de
Secondhand-Agentur

Coats, jackets, trousers, evening dresses and skirts, arranged according to designers such as Armani, Gucci or Jil Sander.
››
Schwabing, Siegesstr. 20, Tel. 39 20 23, www.secondhand-agentur.de

Zsa Zsa

Rare clothes from the 20s-60s and clothes tailored according to original patterns.
››
Maxvorstadt, Schellingstr. 68, Tel. 27 23 27 3
››
Back
Sports wear
---
Adidas Original Store

New and redesigned products of the popular sport label, covering an area of 170 sq m.
››
Schwabing, Hohenzollernstr. 27, Tel. 33 02 96 90, www.adidas.de

Bittl Schuhe + Sport

Largest sporting goods store in Munich's west, offers complete equipment for various sports like tennis, mountain sports, skiing, biking or even dog sledding, shoes and sport fashion.
››
Laim, Fürstenrieder Str. 18, Tel. 5 46 76 70
››
Untermenzing, Georg-Reismüller-Str. 5, Tel. 89 21 90
››
www.bittl.de

Globetrotter
››
Altstadt, Isartorplatz 8-10, Tel. 44 45 55 70, www.globetrotter.de

Golfhouse

Germany's top golf equipment chain opened its first branch in Hamburg in 1980. Today golf and fashion enthusiasts can find the most modern golfing gear and styles for the perfect tee-off in 14 nationwide stores. There are over 100 brands, including Nike Golf, Ralph Lauren, US Kids Golf and Golfino with assuring sporty fashionable styles that will make you cut a good figure not just on the golf course.
››
Maxvorstadt, Palais am Lenbachplatz, Lenbachplatz 5, Tel. 55 02 83 20, www.golfhouse.de
mySportswear Store
Specialist for formidable sports wear and sporty leisure fashion. Since February 2011 also store in Munich.
››
Schwabing, Hohenzollernstr./Ecke Römerstr. 21, Tel. 66 67 67-0, www.my-sportswear.de, www.flexi-sports.com

Patagonia

Californian outdoor clothes, beachwear and mountaineer­­ing equipment.
››
Schwabing, Leopoldstr. 47, Tel. 39 92 99, www.patagonia.com
Puma Store

Sport and lifestyle clothing, trousers, shirts and shoes only by Puma.
››
Altstadt, Theatinerstr. 1, Tel. 44 44 70 10, www.puma.com
Sport Ruscher - Der Laufladen

Specialist for running sport and triathlon, after treadmill analysis you can find the right shoes, plus matching clothing as well as nutritional supplements.
››
Laim, Fürs­tenrieder Str. 34, Tel. 51 26 15 61, www.ruscher.de

Sport Schuster

Large sports shop near Marienplatz, specialists for skiing and mountaineering.
››
Altstadt, Rosenstr. 1-5, Tel. 23 70 70, www.sport-schuster.de
››
Back