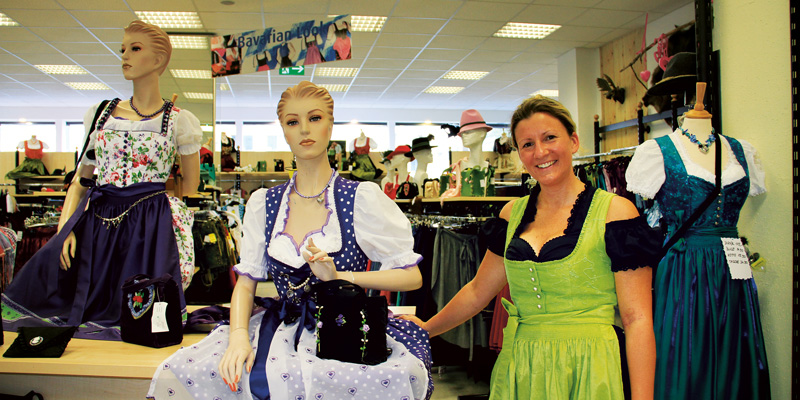 ReSales
Even people who have never been to Bavaria recognize the traditional dress of a genuine Bavarian: Dirndl dress for women, Lederhosen (leather trousers), Haferl­schuh (brogues), Wadenstrümpfe (half stockings)and a Gamsbart hat for men are world famous. In tradition-conscious Bavaria many people still wear Tracht (traditional outfits) at various festive events, such as carnivals or family get-togethers. Since the original Trachten outfit was modernized and has long lost its old-fashioned image even young people now like wearing traditional clothes. Dirndls are now available in all lengths, preciously embroidered, in classic silk or modern in pastel shades, that are sexy and stylish.
Almenrausch

Whether a saucy dirndl or the classic lederhosen – in Almenrausch, everyone will certainly find the perfect outfit for the Oktoberfest or the next visit to the beer garden.
››
Altstadt, Tal 1, Tel. 22 02 72, www.almenrausch.net
Angermaier

Traditional costume shop, offering the correct clothing for visitors to the Oktoberfest for 64 years: trendy Lederhosen, short or long, dirndl dresses, ranging from traditional to modern and accessories, two stores in Munich.
››
West­end, Landsberger Str. 101-103, Tel. 50 16 77
››
Altstadt, Rosental 10, Tel. 23 00 01 99
››
www.trachten-angermaier.de
Bavarian Queen

New online store for traditional Bavarian clothes. Its slogan is "quality, not quantity - and still value for money." Along with traditional wear, the store sells unusual designs and even items that are a little off-the-wall. All are from well-known manufacturers. And male customers need not be put off by the name. The store also stocks traditional wear for men.
››
www.bavarian-queen.de
Bayerwari Trachtenmode

Modern designer dirndls with blouse and apron, dirndl tops made of embroidered velvet, silk aprons and children's dirndls.
››
Laim, Fürstenrieder Str. 70, Tel. 58 90 86 70, www.bayerwari.de
Eduard Meier

Hand-stitched shoes in the oldest shoe shop in Munich, family-owned since 1596.
››
Altstadt, Residenzstr. 22
››
Maxvorstadt, Brienner Str. 10
››
Tel. 22 00 44, www.edmeier.de
Exatmo Design

Innovative hand-made Bavarian clothes worn by celebrities.
››
Schwabing, Tengstr. 25, Tel. 33 57 61, www.exatmo.de
Holareidulijö

Secondhand treasure trove for Bavarian traditional dress (Trachten): Lederhosen, dirndl, Haferl­schuhe (brogues), Loferl (half stockings), traditional jewelry like chokers and Charivaris as well as various Bavarian curiosities.
››
Maxvorstadt, Schellingstr. 81, Tel. 2 71 77 45, www.holareidulijoe.com
Hubercraft

Exhilaratingly different: Bavarian tradition is combined with fine Indian sari materials here, resulting in colorful and gorgeous one-of-a-kind items. There are also classically cut dirndls printed with witty designs, so that you can dance to a different drummer at the next Oktoberfest.
››
Haidhausen, Sedanstr. 23, Tel. 28 97 20 05, www.hubercraft.de
Iseria

Bavarian costume and jewellery, also custom-made.
››
Sendling, Fallstr. 14, Tel. 7 23 23 36, www.iseria-schmuck.de
Loden-Frey

Huge traditional department on third floor, also has all of the important designer labels.
››
Altstadt, Maffeistr. 7, Tel. 21 03 90, www.loden-frey.de
Lollipop und Alpenrock

Extraordinary designer fashion, inspired by traditional Bavarian clothes, for example dirndls made from uncommon fabrics and Lederhosen made from jeans instead of leather.
››
Altstadt, Tal 27 (6th floor), Tel. 2 01 11 14, (by appointment only), www.lolapaltinger.com
Rut Moralt Exclusive Landhausmode

Exclusive and fancy apparel – from different well-known manufacturers.
››
Schwabing, Georgenstr. 50, Tel. 27 77 91 53
ReSales

High-quality secondhand fashion. The selection is huge, ranging from fashionable and trendy clothing for every day for him and her to children's fashion, shoes and accessories all the way to fancy evening wear, saucy dirndls and lederhosen as well as noble designer clothing. Of course, you can also find new things – including an impressive selection of traditional fashions – at unbeatable prices..
››
Altstadt, Sendlinger Str. 21
››
Haidhausen, Weißenburger Str. 32
››
Ludwigsvorstadt, Sonnenstr. 2
››
Ludwigsvorstadt, Lindwurmstr. 82
››
www.jeden-tag-was-neues.de
Schuh-Bertl

Deerskin jackets, trousers or belts. Schuh-Bertl offers high-class traditional Bavarian clothes and, of course, handmade shoes.
››
Isarvorstadt, Kohlstr. 3, Tel. 29 71 62, www.schuh-bertl.de
Trachten Redl

Traditional Bavarian clothes for adults and children one year of age and older. Long and short leather pants, shirts, blouses, traditional footwear, walking jackets, socks, cardigans and vests, dirndls, traditional corsages and dresses. Outlet store.
››
Bogenhausen, Weltenburger Str. 17, Tel. 91 95 59, www.trachten-redl.de
Tracht und Heimat

Original Bavarian clothes for ladies and gentlemen, also custom made, genuine Bavarian dirndls, lederhosen and traditional suits for gentlemen, shirts, socks and traditional fabrics, Bavarian folk art.
››
Altstadt, Oberanger 9, Tel. 2 60 43 21, www.trachtundheimat.de
Wies'n Tracht & mehr

New and secondhand traditional dress, short and long dirndls or lederhosen, children's traditional wear, vests, socks and accessories such as Edelweiß chains and bracelets.
››
Altstadt, Rosental 5
››
Altstadt, Tal 19
››
Altstadt, Sendlinger Str. 50-52
››
Schwabing, Hohenzollernstr. 7
››
www.wiesn-tracht-mehr.de

Wirkes Leder & Tracht

Everything you need to dress up for the Oktoberfest in style, e.g. dirndls, mini dirndls, Lederhosen and Western garb.
››
Forstenried, Drygalski-Allee 33, Tel. 78 01 99 09
››
Moosach, Hanauer Str. 85a, Tel. 14 33 85 65
››
Trudering, Wasserburger Landstr. 281, Tel. 43 70 71 84
››
www.trachtenshop-bayern.de