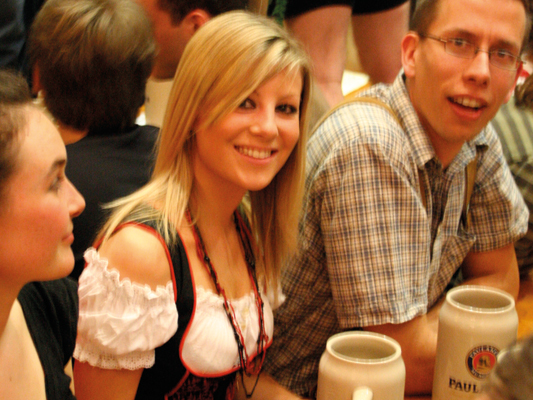 Nockherberg, © NEW IN THE CITY
The hustle and bustle of Fasching (carnival time) has hardly come to an end when Lent arrives. During Lent, Munich's big breweries serve tasty strong beer. This annual Starkbierfest (strong beer festival) is celebrated, similar to the Oktoberfest, with traditional costume accompanied by brass band music, dancing on tables, folksy drinking and by the high society from Munich and surroundings. Unlike the Oktoberfest, the Starkbierfest doesn't have fairground rides, cotton candy, roasted almonds and shooting galleries -- instead satirizing politicians and musical comedy are on the program.

"Derbleck'n," the traditional cabaret show at the Starkbierfest in the Paulaner brewery on Nockherberg, is a Bavarian expression that means to mimic prominent people and give them a piece of one's mind. It derives from the word "Blecken," which signifies to bare one's teeth. This Nockherberg show has been taking place since 1891 and in the 1950s the tradition of political satire started. A well-known Munich actor dressed as Brother Barnabas reads the riot act to the politicians and celebrities that are present in a Lenten speech. No misstep by them will be left out. This year, a woman will act as the Lenten preacher for the first time. In 2010, Luise Kinseher took part at the musical comedy, during which actors mime prominent people from regional and federal politics, and this time she will also be the Bavaria. Every year the spectacular show is broadcast live on TV. But you can only attend if the Paulaner brewery invites you personally.

The traditional Starkbier has an alcohol content of about 6 to 8 percent, compared with 4.5 percent for normal beer. It also has a much higher original wort concentration, 16 to 18 percent, so you shouldn't drink it on an empty stomach! This powerful beer can be identified by its name, which always ends with the suffix -ator, that fits to the strong content. An example is Salvator" from Paulaner brewery. The beer is also very dark, tastes sweetish and most breweries serve it only between Fasching and Easter.

Originally the Paulaner monks brewed strong beer that was especially rich in calories to overcome the hungry period during the fasting period of Lent. It is said that the monks drank up to five liters a day! They called their strong beer "Saint father," which became commonly known as "Salvator." The Salvator brewing recipe, which was improved by Brother Barnabas in 1770 is still used today. In 1780 the monks were allowed to sell their beer and a folk festival evolved. At the beginning of the 19th century, the brewery fell into secular hands and moved to its present day home on Nockherberg between the city districts Au and Giesing. For entertainment musical comedy with folk singers was added.

In the Löwenbräukeller, the strong beer season traditionally begins with the serving of Triumphator from March 18 to April 16. Additionally, there is cabaret, live music and the strong beer speech by Christian Springer as Fonsi. Another place where strong beer is served is the Augustinerkeller from March 17 to April 9 from Thursday to Saturday from 4 pm. Augustinerkeller serves its own brew, called Maximator"(7.5% alcohol) directly from a wooden barrel. From 6 pm there is live traditional music. If you arrive at Munich Aiport, you can try Aviator (7.7% alcohol) right at the airport. In the Airbräu brewery, Europe's only airport brewery, you can even watch the brewing process in the Airbräu restaurant and have a guided tour.

Paulaner brewery also has a restaurant on Nockherberg and there everyone can try Salvator (7.9% alcohol) from March 25 after "Derbleck´n" show has taken place. Bavarian food is served and music is played by the Oktoberfest band.

Starkbier locations
---
Airbräu-Restaurant am Flughafen
›› München Airport Center, Terminalstraße Mitte 18, Tel. 97 59 31 11
www.munich-airport.de/de/micro/airbraeu/index.jsp

Augustinerkeller
›› Maxvorstadt, Arnulf Str. 52, Tel. 59 43 93
www.augustinerkeller.de

Löwenbräukeller
›› Maxvorstadt, Nymphenburger Str. 2, Tel. 5 47 26 69-0
www.loewenbraeukeller.com

Nockherberg Paulaner Wirtshaus
›› Au-Haidhausen, Hoch Str. 77, Tel. 45 99 13-0
www.nockherberg.com