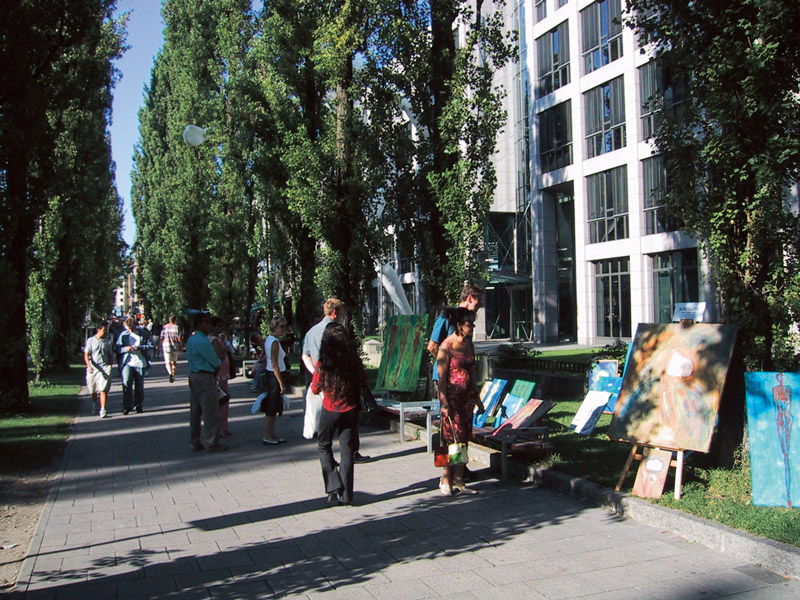 Leopoldstraße
Schwabing might very well be Munich's most famous district, best known for its nightlife. Shopping fans also can enjoy a walk between stores and cafés around here. The Leopoldstraße between Münchner Freiheit square and the Siegestor (Victory Gate) certainly is Munich's most prominent promenate. Twice a year it is even closed for motor traffic during the street life festival. But Schwabing's smaller streets have much to offer as well. If you walk down Hohenzollernstraße to the west you will reach Kurfürsten- and finally Hohenzollernplatz.

On the way you will pass plenty of boutiques, book stores, jewelry stores, art galleries, as well as a couple of exotic stores and junk shops. South of Kurfürstenplatzes you can find idyllic Elisabethplatz, named after the Austrian Empress, Sisi. Here the famous downtown Viktualienmarkt has a little brother, the Elisabethmarkt. At market stalls and in the open and in small shops you buy fresh fruit and vegetables, delicious meat or fish, bread made from all natural ingredients and cheese.

Shopping highlights in Maxvorstadt and Schwabing

Amalienpassage
1,800 sqm of stores between Türkenstraße and Amalienstraße, including shops, cafés, a tanning salon, hair dresser, galleries and more.
›› Maxvorstadt, Türkenstraße/Amalienstraße, www.amalienpassage.de

Australia Shopping World
Australian guidebooks, videos, groceries, kangaroo meat, leather hats, visas, newspapers, magazines, small second hand book section, etc.
›› Maxvorstadt, Dachauer Str. 109, Tel. 5428391, www.australiashop.com

Bear's & Friends
Jelly babies and fruit chews of every kind and size, dyed or undyed, with or without sugar, more than 100 varieties.
›› Schwabing, Schellingstraße 42, Tel. 2 72 20 52 & Hohenzollernstr. 2a, Tel. 38 38 03 98, www.bears-friends.de

George Frank
Every human being is unique. That's why you can have your individual T-shirt printed here. Choose from various shirt shapes and sizes, 200 motifs and 30 printing colors. You may also have your individual text put on a shirt.
›› Schwabing, Amalienstr. 47, Tel. 28 89 07 95, www.georgefrank.de

Karstadt
The former Hertie at Münchner Freiheit now belongs to the Karstadt Group. Great selection on six floors. Here you can cover all the basic necessities.
›› Schwabing, Leopoldstraße 82, Tel. 38 10 60, www.karstadt.de

Kostüme Breuer
The owner's mother exchanged warm jackets for a couple of costumes with an immigrant shortly after the war. Now there are 400 sqm of costumes in Schwabing, plus a 1,000 sqm depot outside the city. Costumes of all kinds and epoches are waiting for costumers.
›› Schwabing, Hohenzollernstr. 22a, Tel. 39 99 65, www.ladiesfirst.de

Ladies First
Germany's first sex shop for women only, everything from condoms, vibrators and lingerie. Access for men only on Tuesdays and only if accompanied by a female partner.
›› Schwabing, Kurfürstenstr. 23, Tel. 2 71 88 06, www.ladiesfirst.de

mySportswear Store
Specialist for formidable sports wear and sporty leisure fashion. Since February 2011 also store in Munich.
›› Schwabing, Hohenzollernstr./Ecke Römerstr. 21, Tel. 66 67 67-0, www.my-sportswear.de, www.flexi-sports.com


Wordsworth Academic
University books for UK and US students.
›› Maxvorstadt, Schellingstr. 3, Tel. 28 36 42

Words' Worth Booksellers
Well-stocked with English lang-uage books from travel to fiction, from poetry to audio books. Nice courtyard location.
›› Maxvorstadt, Schellingstr. 21a, Tel. 2 80 91 41, www.wordsworth.de