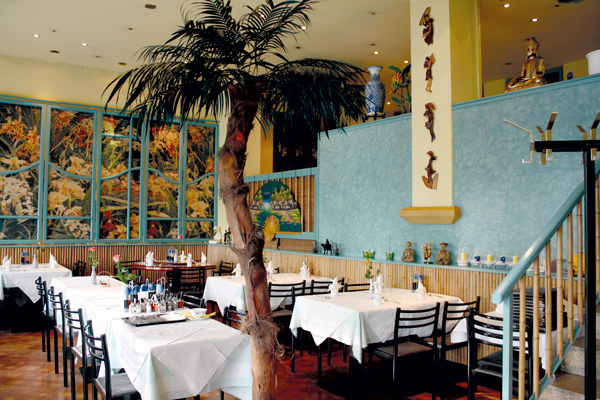 Orchid
Chinese/Panasian
---
Bei Ling
This family-owned restaurant serves classic Chinese food. Inexpensive lunch menus on weekdays. You are greeted with a glass of plum wine and the bill comes with fruit juice.
›› Schwabing, Karl-Theodor-Str. 97, Tel. 30 72 61 51

Hong Kong
Munich's oldest Chinese restaurant known for its wonderful atmosphere, delicious food and beer garden seating 50 in the courtyard.
›› Schwabing, Tengstr. 34, Tel. 2 71 66 13

Hong Kong Bar
A cult Munich eatery for Asian food. There's an exotic feel when the evening begins and guests order their cocktails or let themselves be seduced by the pan-Asian cuisine from the Far East.
›› Isarvorstadt, Kapuzinerstr. 39, Tel. 2 01 02 05, www.hongkongbar.de

Kam Yi
It doesn't look like much on the outside, inside you will find a spacious, elegant restaurant. The fact that you'll meet many Asians here is a sign of the good quality.
›› Haidhausen, Rosenheimer Str. 32, Tel. 4 48 13 66, www.kamyi.com

Kirschblüte
The tiny café-bar not far from Gärtnerplatz is a popular meeting place, especially for lunch. No wonder – the pan-Asian delicacies that arrive at your table area always fresh and very delicious.
›› Isarvorstadt, Ickstattstr. 26, Tel. 20 20 76 50

Mangostin Asia
High prices and somewhat pompous service are dish of the day at this classy eatery. But the long-established restaurant is a favorite of many oriental food lovers and is regarded as one of the best of its kind. Even the Rolling Stones ate their fill here, classy ambiance and wonderful garden.
›› Thalkirchen, Maria-Einsiedel-Str. 2, Tel. 7 23 20 31, www.mangostin.de

Mongo´s Restaurant
A nationwide restaurant-bar chain with a unique concept based on the Mongolian barbecue technique: you put your own menu together from 50 raw ingredients and let it gently cook in front of you. Modern furnishings, ethnic interior design and extensive decorations make your day. Outdoor seats. Tip: Asian brunch on Sundays (12 pm – 4 pm), from October to April.
›› Altstadt, Oberanger 28, Tel. 23 22 58 00, www.mongos.de

Zoe´s
Excellent food and extraordinary interior with plenty of red lampions on the ceiling, modern fireplace. Great selection of cocktails.
›› Bogenhausen, Cosimastr. 133, Tel. 95 60 30, www.zoes-restaurant.de

››
Japanese
---
Emiko
Much more than sushi awaits diners in Munich's most popular Japanese restaurant, namely high cuisine from Japan, which combines traditional Japanese cooking with the best international flavors. Added to that, there is a sensational view of the Viktualienmarkt fruit and vegetable market and a stylish ambience. It all comes at a high price, but it's worth it, if only for the relaxed atmosphere. Recommended for tea lovers is the Asia Tea Time every day at 2.30 pm with fine teas and small delicacies.

›› Altstadt, Viktualienmarkt 6 (Im Louis Hotel), Tel. 4 11 19 08-111, www.louis-hotel.com

Kaito
Traditional, upscale Japanese, serving only homemade sauces, comprehensive selection of Japanese rice wines and schnapps, Japanese rooms with Tatami mats, large party room with Karaoke system.
›› Maxvorstadt, Gabelsbergerstr. 85, Tel. 52 05 94 55, www.kaito-restaurant.de

Kushiage Enn
This small, authentic restaurant doesn't serve sushi, but rather an excellent specialty: kushi – fried little bamboo skewers with meat, fish or vegetables that are served sizzling and that taste drop-dead delicious.
›› Maxvorstadt, Barer Str. 65, Tel. 27 37 26 41, www.kushiageenn.de

No Mi Ya
Japan meets Bavaria at this sushi bar that serves Unertl wheat beer along with Japanese snacks, sushi and plum wine. Sometimes traditional Bavarian music.
›› Haidhausen, Wörthstr. 7, Tel. 4 48 40 95, www.nomiya.de

Ohayou
Simple setting with a tatami area where you can try out many kinds of sushi; very popular with Japanese nationals.
›› Schwabing, Belgradstr. 71, Tel. 32 66 76 04, www.ohayou-muenchen.de

Shoya
An absolute classic among Munich's Japanese restaurants. The sushi and the specialities from the Teppanyaki griddle are among the best in the city.
›› Isarvorstadt, Ehrengutstr. 27, Tel. 76 70 23 22

Shoya Imbiss
Tiny, busy and authentic eatery located right beside the Hofbräuhaus, the guests sit tightly packed, just like in Tokyo, well worth trying. The second branch on Frauenstraße offers food of the same quality but is far less busy.
›› Altstadt, Orlandostr. 5 (close to Hofbräuhaus), Tel. 29 27 72
›› Altstadt, Frauenstr. 18, Tel. 24 20 89 89

Tenmaya
Delicious sushi served in various rooms, with running sushi and tatami room, Japanese waitresses wearing kimonos, authentic.
›› Maxvorstadt, Theresienstr. 43, Tel. 57 93 31 30, www.tenmaya.de

Tokami
Top sushi address, high-quality fish and other Japanese specialities served at the right price.
›› Max­vorstadt, Theresienstr. 54, Tel. 28 98 67 60, www.tokami.de

Toshi
apanese gourmet temple with many Japanese clients vouching for the quality.
›› Altstadt, Wurzerstr. 18, Tel. 25 54 69 42, www.restaurant-toshi.de

››
Sushi bars
---
Fujikaiten
Cook-on-the-run sushi place, all-you-can-eat sushi daily; reservations are a must.

›› Schwabing, Münchner Freiheit 4, Tel. 38 66 67 66

Kumasan
Inexpensive running sushi place close to the English language theater, Cinema, all-you-can-eat lunch for € 8,90.
›› Neuhausen, Blutenburgstr. 31, Tel. 12 71 79 34, www.kumasansushi.com

Mitani
Small hidden sushi restaurant, decorated in a bright and friendly manner, first-class, quality sushi, not exactly inexpensive.
›› Haidhausen, Rablstr. 45, Tel. 4 48 95 26

Sasou
Centrally located right on Marienplatz. This glass-front sushi bistro offers first-class food prepared in full view of diners.
›› Altstadt, Marienplatz 28, Tel. 26 37 01, www.sasou.de

Sushibar
Beloved sushi bar, where diners sit congenially together listening to lounge music. The sushi is of the best quality, home delivery service offered, you can place your orders online.
›› Altstadt, Maximilianstr. 34/Innenhof, Tel. 25 54 06 45
›› Schwabing, Marschallstr. 2, Tel. 388 99 606
›› Homeservice Tel. 30 00 51 50
›› www.sushibar-muc.de

Sushi Express
You can visit the sushi bar inside Café Schwab­ing or have their delicacies delivered to your home in no time. Founded in 1995, the Sushi Express was Munich's first sushi home service, now a renowned delivery service. You can also place your orders online.
›› Schwabing-West, Belgradstr. 1 (Café Schwabing) & Belgradstr. 47
›› Tel. 30 76 25 00 & Tel. 3 00 40 00, www.sushi-express.de

Sushi & Soul
Trendy sushi place nicely designed, open kitchen in the center of the room, the bright, comfortable tatami area was added lately. Recommended is the Bento Menu, half-price daily, 6 pm-7.30 pm.
›› Isarvorstadt, Klenzestr. 71, Tel. 20 10 992, www.sushi-soul.de

Wasabi
Small sushi place, plain interior with cute tatami room for private meals, small terrace.
›› Neuhausen, Volkartstr. 22, Tel. 13 93 65 66, www.muenchen-sushi-wasabi.com

››
Korean
---
Seoul
Cozy dimly-lit eatery, somewhat hidden in north Schwabing, good service and the best Korean food, beautiful courtyard garden.

›› Schwabing, Leopoldstr. 120, Tel. 34 81 04, www.seoulrestaurantmunich.com

Zum Koreaner
Reasonable prices, friendly staff. For diners who suffer food allergies it's worth noting that the food is not only good but also MSG-free.
›› Maxvorstadt, Amalienstr. 51, Tel. 2 83 11
›› Neuhausen, Nymphenburger Str. 132, Tel. 18 98 59 93
›› www.zum-koreaner.de

››
Malaysian/Singapore
---
Champor
Munich's first Malaysian restaurant offers a culinary delight, influenced by Indian, Chinese and Indonesian cooking. Regular specials, such as Cook & Lunch, painted in warm colors and beautifully decorated with statues.

›› Bogenhausen, Warthestr. 5, Tel. 9 93 31 77 64, www.champor.de

››
Thai
---
Benjarong
Well-known Thai with excellent food and nice ambience. A must.
›› Altstadt, Falckenbergstr. 7, Tel. 2 91 30 55, www.restaurantbenjarong.de

Chang Noi
Lounge and Thai restaurant. In addition to the Chang Noi (little elephant) in Isarvorstadt and in Neuhausen, a third little elephant exists in Schwabing. Authentic Thai recipes are used in all three restaurants. In the new Thai Fusion in Schwabing, there is also an amalgamation of Thai and European cooking, spicy, light and delicious. Beautifully furnished, special children's dishes, and free WiFi access for diners.
›› Isarvorstadt, Kapuzinerstr. 23, Tel. 53 86 87 40
›› Neuhausen, Schlörstr. 1, Tel. 54 24 98 33
›› Chang Noi – Thai Fusion: Schwabing, Herzogstr. 44, Tel. 74 68 91 25
›› www.chang-noi.de

Kao Kao
Simply furnished, top class food and service. Quality has made this place a name in no time.
›› Westend, Tulbeckstr. 9, Tel. 50 54 00, www.kao-kao-restaurant.de

Khanittha 3
Very attractive, with the food leaving the palate very satisfied, typical Thai food.
›› Haidhausen, Kirchenstr. 96, Tel. 54 80 47 66

Kun Tuk
This restaurant is a popular student lunch place. In the evenings it's popular with Thai food fans all generations because of its simple Asian ambience and authentic cuisine. Reservations essential.
›› Maxvorstadt, Amalienstr. 81, Tel. 28 37 00, www.kuntuk.de

Rüen Thai
Small friendly Thai in Westend with a typical Thai menu and a superb selection of international wines.
›› Westend, Kazmairstr. 58, Tel. 50 32 39, www.rueen-thai.de

Tem Thai Cooking
Thai specialties in differently decorated theme rooms, large menu with classic Thai dishes and various curries.
›› Schwabing-West, Kurfürstenplatz 2, Tel. 33 03 85 20, www.temthaicooking.de

Yum
An "in" place with excellent cuisine and moderate prices. The secretive setting, with lots of candles and Buddha statues, is a feast on the eyes in itself. You definitely need to reserve here. The popular Yum snackbar is around the corner.
›› Yum: Altstadt, Utzschneiderstr. 6, Tel. 23 23 06 60, www.yum-thai.de
›› Yum2Take: Altstadt, Sebastiansplatz 8, Tel. 66 06 36 13, www.yum2take.de

››
Vietnamese
---
Cam-Ly
Spicy food and slightly old-fashioned ambiance, but the price/performance ratio is absolutely convincing, popular Cam-Ly home service.
›› Sendling, Pfeufer Str. 33, Tel. 74 79 08 84, www.camly.de

CyClo
Traditional Vietnamese restaurant and bar, ideal for romantic evenings after a visit to the Pinakothek, directly opposite.
›› Maxvorstadt, Theresienstr. 70, Tel. 28 80 83 90

Green Leaf Indochina Bar & Restaurant
The freshness of the soft green furnishings – with a lot of attention to details and according to the rules of Feng-Shui – is mirrored in the taste of the food. MSG-free and prepared with fresh herbs and fruits, delicacies from Laos, Vietnam and Cambodia are served in an informal atmosphere. If you don't believe this, you can just look over the chef's shoulder while he is preparing the meals in the show kitchen.
›› Isarvorstadt, Erhardtstr. 15, Tel. 21 11 10 60, www.restaurant-greenleaf.de

Little Saigon
Dark wooden rooms, very cozy, the Vietnamese menu counts as one of the best in the city.
›› Schwabing, Destouches Str. 48/Ecke Belgradstr., Tel. 30 00 56 34, www.littlesaigon-restaurant.de

Monsoon
Chic setting in flattering colors with small tables and exotic furnishings such as stone dragons and Buddha statues. These transform the Monsoon into a temple of the senses. The no less chic Glockenbach residents like to satisfy their passion for Vietnamese food here, even as early as lunch.
›› Isarvorstadt, Hans-Sachs Str. 9, Tel. 38 66 62 98, www.monsoonrestaurant.de

Orchid
While hungry business people from the surrounding offices gather here at lunch, in the evenings this cozy restaurant, with a mixture of Thai and Vietnamese food, is an insider's tip for people who enjoy Asian cuisine.
›› Ramersdorf, Rosenheimer Str. 145i, Tel. 49 67 07

Thang Long
Traditional Vietnamese food, classy design modeled on an aristocrat's residence of colonial Hanoi.
›› Bogenhausen, Ismaninger Str. 61, Tel. 45 70 88 18, www.thanglong-muenchen.de

››