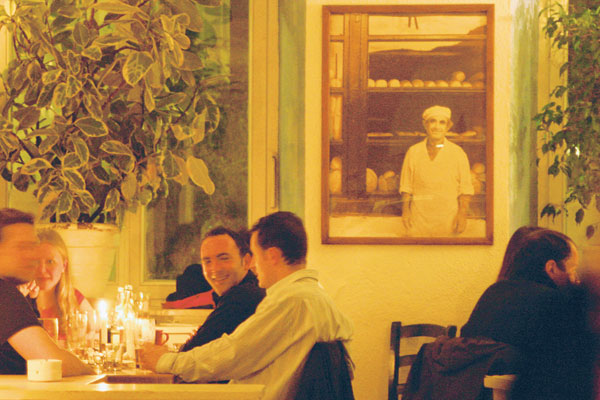 Paros
French
---
Atelier Gourmet & Le Bousquérey
In the Atelier Gourmet, Italian and French cuisine blend into a delicate symbiosis; La Bousquérey is a wine bar with an extensive wine list, well-known due to its fish dishes.

›› Atelier Gourmet: Haidhausen, Rablstr. 37, Tel. 48 72 20, www.ateliergourmet.de
›› Le Bousquérey: Haidhausen, Rablstr. 37, Tel. 48 84 55, www.restaurant-lebousquerey.de

Au Comptoir de Loic
Stylish little restaurant with haute cuisine in the upper price range. If you pay this place a visit, you will be rewarded with excellent cuisine and very personal service.
›› Haidhausen, Rablstr. 37, Tel. 62 23 21 19, www.loic-restaurant.de

Crêperie Bernard & Bernard
Small cuddly bar-restaurant with delicious crêpes and galettes on the menu.
›› Haidhausen, Innere Wiener Str. 32, Tel. 4 80 11 73

Crêperie Cabus
Modern, cozy crêperie offering any type of crêpe you could wish for. Popular place, inexpensive.
›› Schwabing, Isabellastr. 4, Tel. 2 71 03 30

Jean de St. Malo
French specialties focusing on seafood from monkfish with mushrooms to gurnard fish with mussels. The atmosphere is rather maritime and reminiscent of Brittany with photos of ships and weatherbeaten tales.
›› Isarvorstadt, Holzstr. 25, Tel. 23 00 00 77, www.jd-st-malo.de

La Bouche
This small French place could become your favorite restaurant! Full every evening, especially with couples who enjoy the Mediterranean delicacies and fine wines. Particularly nice in summer when you can sit outside and experience the Glockenbachviertel's savoir-vivre.
›› Isarvorstadt, Jahnstr. 30, Tel. 26 56 26, www.restaurant-la-bouche.de

La Bouille
Charming, family-run place. Chef Serra prepares the excellent Provencal delicacies while his wife Gertrud looks after the guests.
›› Maxvorstadt, Neureutherstr. 15, Tel. 39 99 36, www.labouille.de

Le Barestovino
Triple quality that fulfills epicures' every desire: bar, gourmet restaurant and a downstairs vinotheque. Modern French and Mediterranean cuisine at moderate prices, multi-course meals from € 46 (four courses).
›› Lehel, Thierschstr. 35, Tel. 23 70 83 55, www.barestovino.de

Le Faubourg
Small friendly French restaurant in an idyllic little house overgrown with ivy, flawless gourmet cuisine, wine cellar with some 4,500 bottles of French wine, higher price range.
›› Haidhausen, Kirchenstr. 5, Tel. 47 55 33, www.le-faubourg.de

Le Gaulois
Gallic restaurant with cozy cottage ambiance, long, rustic wooden tables and benches, the faux-textured walls are decorated with farm utensils, no unnecessary knick-knacks. Enjoy a glass of wine, surrounded by happy diners, beautiful terrace.
›› Schwabing, Hörwarthstr. 4, Tel. 36 74 35, www.legaulois.de

Le Sud
Restaurant worth seeing with an impressive entrance area akin to a French country house, romantic flair including a small garden. The food tastes just as good.
›› Schwabing, Bismarckstr. 21, Tel. 33 08 87 38, www.lesud.de

Les Cuisiniers
Recipe for success: The chef greets you personally, serves exquisite French food, and offers a choice of four suitable wines for each dish.
›› Lehel, Reitmorstr. 21, Tel. 23 70 98 90, www.lescuisiniers.de

Makassar
60 comfortable seats inside and another 25 places to sit on the terrace. French and Creole delicacies, served by an experienced, international team, bar.
›› Isarvorstadt, Dreimühlenstr. 25, Tel. 77 69 59, www.makassar.de

Rue des Halles
Charming restaurant with classic top-quality French food, higher price range, excellent service.
›› Haidhausen, Steinstr. 18, Tel. 48 56 75, www.rue-des-halles.de

Saint Laurent
In this family enterprise with a true Parisian charm, the boss prepares classic French dishes that are served by his wife.
›› Haidhausen, Steinstr. 63, Tel. 47 08 40 00

Terrine
A gourmet temple in the style of the 1920s, which has been awarded a Michelin star. It entices diners with haute cuisine of the finest quality and appropriate wines – pure savoir vivre!
›› Schwabing, Amalienstr. 89, Tel. 28 17 80, www.terrine.de

››
Greek
---
Anti
Mini Greek place with cult status: small but genial.

›› Glockenbach, Jahnstr. 36, Tel. 26 83 37

Georgios
The ouzo that greets you here on arrival is customary. Very friendly and always a good atmosphere.
›› Schwabing, Schleißheimer Str. 188, Tel. 3 08 93 96, www.georgios-taverne.de

Kalypso
Pretty fish and wine tavern decorated with Greek statues. A good sign is that the dishes are limited, which means they are freshly prepared daily.
›› Schwabing, Agnesstr. 8, Tel. 2 71 09 00, www.kalypso.de

Kyklos
Cozy cellar eatery has served Greek food for more than 20 years.
›› Neuhausen, Wilderich-Lang-Str. 10, Tel. 16 26 33, www.taverne-kyklos.de

Mykonos
Well-known location for Greek food; Tsaligopoulos, the owner, has outdone himself and lovingly redecorated everything. Modern and refreshing with a Mediterranean touch.
›› Schwabing, Kaiserstr. 55, Tel. 38 87 94 28, www.mykonos-schwabing.de

Parea
This little Greek restaurant in the heart of Schwabing is the right place to get in the mood for your next vacation in Greece. But you should make reservations, as you will find much more than just gyros here, a fact that not only Schwabing residents value.
›› Schwabing, Kaiserstr. 28, Tel. 33 60 23

Paros
Popular restaurant, plainly decorated in white and blue, delicious Greek specialties at fair prices, beautiful summer terrace with 70 seats.
›› Haidhausen, Kirchenstr. 27, Tel. 4 70 29 95, www.paros-muenchen.de

Santorini
Colorful interior with murals of typical Greek scenes give this restaurant a lively, authentic atmosphere. Idyllic beer garden and moderate prices. Excellent Greek cuisine. There's a second branch in Harlaching where Greek hospitality is also big.
›› Obersendling, Irschenhauser Str. 22, Tel. 72 49 67 33
›› Harlaching, Geiselgasteigstr. 153, Tel. 6 25 32 20
›› www.santorini-muenchen.com

Taverna Lakis
Like a vacation: hospitality is the motto of this cozy tavern; large mural depicting a Greek harbor. Fresh Mediterranean food.
›› Maxvorstadt, Augustenstr. 114, Tel. 5 23 37 52, www.taverna-lakis.de

››
Italian
---
XII Apostel
Just like in Cologne, Hanover and Majorca, residents of Munich can now make a date with the XII Aposteln (12 Apostles). As is only to be expected, giant delicious stone-baked pizzas are served, which you won't get enough of. It's worth coming back, not just for the food, but also because you eat in imposing premises that are almost like an Italian palazzo.
›› Lehel, Thierschplatz 6, Tel. 28 85 15 82, www.xii-apostel.com

Al Paladino
Small family business with masses of charm which Munich's famous know to value.
›› Westend, Heimeranplatz 1, Tel. 5 02 56 57, www.alpaladino.de

Al Pino
A fine restaurant with the finest Italian cuisine and an exclusive atmosphere.
›› Solln, Franz-Hals-Str. 3, Tel. 79 98 85, www.al-pino.de

Antica Trattoria
Idyllic patio on the high banks of the Isar and full of celebrities. The food is without doubt flawless.
›› Harlaching, Braunstr. 6, Tel. 6 42 66 66, www.antica-trattoria.de

Acquarello
Elegant, upscale Italian restaurant with a real Mediterranean feel. Recommendation: scallops on red-beet risotto and horseradish sauce.
›› Bogenhausen, Mühlbaurstr. 36, Tel. 4 70 48 48, www.acquarello.com

Bei Raffaele
Right in the middle of this restaurant is an impressive original Neapolitan wooden oven. Whoever enters, never wants to leave.
›› Maxvorstadt, Luisenstr. 47, Tel. 52 15 19, www.bei-raffaele.de

Box
Because of its location directly on Gärtnerplatz and its large front window, this bar/restaurant is a favorite spot for people-watching. On the large sunny patio, not only the first latte macchiato of the day tastes especially good, as do the daily Italian specials.
›› Isarvorstadt, Gärtnerplatz 1, Tel. 2 02 16 49, www.box-muenchen.com

Cooperativa
Not a classic Italian restaurant: minimalist interior, trendy guests, the menu lists about ten dishes plus special-of-the-day, no reservations, no menu.
›› Isarvorstadt, Jahnstr. 35, www.cooperativa.de

Corretto
Purist atmosphere, a fine menu, hot-oven pizza, antipasta, changing fish and meat specialities, lovely outdoor patio.
›› Untermenzing, Haldenbergerstr. 28, Tel. 14 34 81 48, www.pizzeria-corretto.de

Da Angelo
Wonderful mini-Italian with a richly decorated bar area.
›› Schwabing, Franz-Joseph-Str. 48, Tel. 2 71 10 38, www.restaurant-da-angelo.de

Dal Cavaliere
Great pizza, great interior, great service, the Dal Cavaliere leaves nothing to be desired. The owner himself takes care of his guests, genuinely Italian.
›› Haidhausen, Weißenburgerstr. 3, Tel. 48 83 88, www.dalcavaliere.de

Gambrinus
Italian restaurant in the heart of Munich. The green and white striped walls and large windows make for a holiday atmosphere. Gazebo in summer.
›› Bogenhausen, Ismaninger Str. 45, Tel. 47 88 41, www.gambrinus-muenchen.de

Golden Twenties
Specially suited for romantic candle-lit Italian evenings. A wide choice with low prices.
›› Schwabing, Arcisstr. 61, Tel. 2 71 77 01, www.golden-twenties.net

Hippocampus
A classy Italian with excellent food. Good place for special occasions.
›› Bogenhausen, Mühlbaurstr. 5, Tel. 47 58 55, www.hippocampus-­restaurant.de

Il Mulino
This small, friendly restaurant with moderate prices in the heart of Maxvorstadt is a long-established Munich institution. The good food and speedy staff put diners in a good mood, so it's no wonder that it's always full. On warm summer evenings when the inviting terrace is open, Munich feels a little nearer to Italy.
›› Schwabing, Görresstr. 1, Tel. 5 23 33 35, www.ristorante-ilmulino.de

Il Padrino
Romantic eatery in the middle of Haidhausen with a short but upscale menu, ideal for an Italian evening for two.
›› Haidhausen, Kirchenstr. 44, Tel. 4 47 11 84, www.ilpadrino.de

L´Angelo della Pizza
Truly excellent pizzas baked in a traditional Italian oven (won the Gastro-Award), giant and very tasty, relaxed atmosphere.
›› Haidhausen, Breisacher Str. 30, Tel. 4 48 89 79, www.langolo-della-pizza.de

La Baia
Friendly Italian idyllically situated, with pasta and pizza done in the traditional oven. Insider's tip.
›› Haidhausen, Milchstr. 10, Tel. 4 48 49 37

La Baracca
A new gastronomic concept in a former car showroom that attracts diners in droves with its loft ambiences and fresh Italian cuisine. Diners order food from the E-menu and from small dishes to multi-course creations, everything is possible. The bar is also great and, believe it or not, it offers 80 wines by the glass to try.
›› Maxvorstadt, Maximiliansplatz 9, Tel. 41 61 78 52, www.labaracca.eu

La Rocca
A great place to dine, especially on the beautiful summer patio – menu of the week, creative dishes and excellent wines.
›› Altstadt, Maximilianstr. 35c, Tel. 24 21 77 78, www.ristorante-larocca.de

La Stanza
Trendy Italian with a bar atmosphere, that can't be left off any restaurant list. The Canale Grande wallpaper is definitely cultish. Food includes breakfast, as well as pasta and, in the evening, fish and meat.
›› Lehel, St.-Anna-Str. 13, Tel. 25 54 23 93

La Vechia Masseria
The atmosphere is fabulous and friendly. In the summer you can sit outside in the nice courtyard. Host Giovanni keeps his guests entertained.
›› Ludwigsvorstadt, Mathildenstr. 3, Tel. 5 50 90 90, www.lavecchiamasseria.de

Limoni
Fittingly for the name of the restaurant, everything here is in light shades of yellow, friendly and inviting. No wonder it's difficult to get a table without a reservation. However, if you get lucky and can be counted among the chosen, you can look forward to a first-class Cucina Italiana that's otherwise served only in Italy.
›› Max­vorstadt, Amalienstr. 38, Tel. 28 80 60 29, www.limoni-ristorante.com

Medici
This "ristorante" has a chic exterior, with striking round windows and an outdoor patio in the summer. Italian and French cuisine combine well together. Mostly fish and pasta dishes.
›› Neuhausen, Nymphenburgerstr. 70, Tel. 12 73 87 66, www.medici-ristorante.de

Piu
You will feel right at home in the Piu. Pampered by the friendly serving personnel, blissed out by the selection of meals on the menu and entranced by the atmosphere of the idyllic summer patio, you'll think that you are actually sitting on an Italian piazza. But you can also spend an enjoyable rainy evening here with pasta, pizza and wine.
›› Haidhausen, Preysingstr. 20, Tel. 4 48 76 76, www.piu-muenchen.de

Menzinger´s
Italian delicacies, a large assortment of select wines from different regions in Italy, original and rustic decor and a picturesque summer garden.
›› Obermenzing, Menzinger Str. 123, Tel. 89 16 19 41, www.menzingers.de

Mugolone
A restaurant with taste – also for art, as seen in the many modern paintings – but mainly for the preparation of the food, such as the mouth-watering ravioli with truffles.
›› Neuhausen, Mailingerstr. 12, Tel. 12 73 98 36, www.mugolone.de

Nabucco
Stylish place with a stucco ceiling, discrete wall paintings and simple furniture; high-quality menu and moderate prices.
›› Schwabing, Erich-Kästner-Str. 21, Tel. 30 00 22 33, www.nabucco.de

Nero
Bar and restaurant in modern design, large selection of pizzas. After dinner you can relax on the gallery which also has a lounge.
›› Isarvorstadt, Rumfordstr. 34, Tel. 21 01 90 60, www.nero-muenchen.de

Osteria Italiana
Restaurant conscious of its tradition (established in 1890), rustic and lovingly decorated, wall paintings and romantic courtyard.
›› Maxvorstadt, Schellingstr. 62, Tel. 2 72 07 17, www.osteria.de

Osteria Laurus
Typical Italian Osteria, light food. Located in a suburb, but the elaborate interior and the absolutely beautiful garden make it worth the trip.
›› S6 bis Gräfelfing, Maria Eich Str. 67, 82166 Gräfelfing, Tel. 89 89 99 98, www.osteria-laurus.de

Riva
Very popular bar-restaurant with a chic designer-look, the pizza variations are just as stylish, like with sushi or ginger.
›› Altstadt, Tal 44, Tel. 22 02 40
›› Schwabing, Feilitzschstr. 4, Tel. 30 90 51 808
›› www.rivabar.com

Romans
First-class Italian restaurant decorated in warm colors, relaxed atmosphere and splendid food. The highlight is the wonderful garden terrace where you can dine in style.
›› Neuhausen, Romanstr. 1, Tel. 1 68 98 98, www.ristorante-romans.de

Solo Pizza
Friendly local pizzeria in the charming Au district. The pizzas are giant, the service very friendly and every evening the tables are full to bursting.
›› Au, Bereiteranger 18, Tel. 67 97 29 00, www.solopizza.de

Speisemeisterei La Trattoria
Impressive nostalgic interior décor, typical Italian specialties and refined meat and fish dishes, beautiful beer garden.
›› Obermenzing, Westerholzstr. 1, Tel. 88 29 01, www.speisemeisterei-la-trattoria.de

Trattoria La Piazza
With the tastiest culinary delights that Italian cooking has to offer, lovers of Mediterranean food can let themselves be pampered in this trattoria with its rustic atmosphere. In addition to a large selection of excellent Italian wines, a changing weekly menu provides for the best form of culinary variety.
›› Schwabing-West, Kölner Platz 7, Tel. 36 75 98, www.trattoria-la-piazza.de

Trattoria Lindengarten
The decor does not try to pass as Latin atmosphere. The restaurant impresses through the culinary art of the Sicilian chef. With great dedication and Mediterranean fantasy he bedazzles his guests in a dignified atmosphere. The menu is discerning and changing. Beer garden with over 100 seats.
›› Laim, Agnes-Bernauer-Str. 115, Tel. 56 44 52, www.trattoria-lindengarten.de

Vinaiolo
Classy Osteria-Con-Cucina in a pretty house covered in ivy. The exceptional atmosphere of a nostalgic pharmacy and the fine Italian delicacies mean that the Vinaiolo will quickly become your favorite Italian restaurant.
›› Haidhausen, Steinstr. 42, Tel. 48 95 03 56, www.vinaiolo.de

››
Spanish
---
Bodega Dalí
Spanish food in a low-lit cellar atmosphere, a wide range of Basque and Catalan dishes, and lots of Spanish wines.
›› Schwabing, Tengstr. 6, Tel. 27 77 96 96, www.bodega-dali.com

Centro Español
Small and simple interior. A seafood paradise which attracts many Spanish diners.
›› Sendling, Daiserstr. 20, Tel. 76 36 53, www.centroespanol.de

El Español
Not just a whiff of Spain but a hurricane here. The restaurant has been awarded the Gastro Award for the best Spanish food in Munich. First-class seafood paella, flamenco on Thursdays, and a choice of 50 tapas on Sundays, and happy hour every day from 5 pm - 8 pm.
›› Haidhausen, Pariser Str. 46, Tel. 48 84 96, www.elespanol-muenchen.de

El Perro y el Griego
You quickly get into a holiday atmosphere here with the bright, partly-tiled walls and the large wine racks. On "Perro's" menu you'll find tapas, fish and meat dishes.
›› Haidhausen, Belfortstr. 14, Tel. 48 25 53, www.tapas-muenchen.de

Lardy
Spanish and Mediterranean specialities in a cozy cellar with vaulted ceiling. On weekends, you will find a party atmosphere on the outdoor patio right on Munich's primary boulevard, Leopoldstraße.
›› Schwabing, Leopoldstr. 49, Tel. 34 49 49, www.lardy.de

Teatro Tapas Bar
Lively and trendy place with a long bar and walls made from light wood, a wide range of tapas with which sangria is best consumed.
›› Haidhausen, Balanstr. 23, Tel. 48 00 42 84

››
Portuguese
---
Lisboa Bar
Munich's only Portuguese bar and restaurant, serving delicious soups, fish and meat specialties, as well as unusual cocktails. Portuguese and Spanish breakfast à la carte on Sundays. On Mondays and Tuesdays, there is a wine festival: as much wine as you can drink.

›› Haidhausen, Breisacher Str. 22, Tel. 4 48 22 74, www.lisboa-bar.de

››