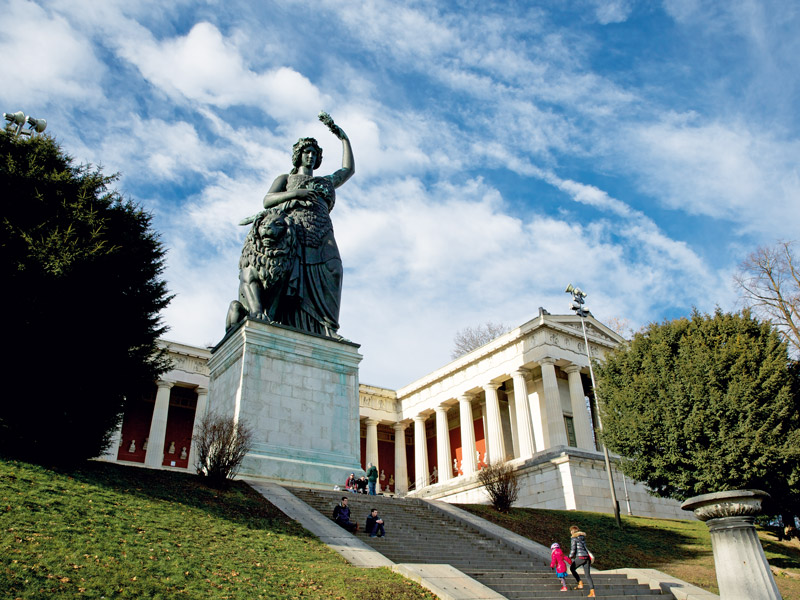 Theresienwiese, © NEW IN THE CITY
If you come to Munich by train, Ludwigsvorstadt is probably the first district you will set foot on. The central train station, "Hauptbahnhof" is located here, Munich's most important junction of international, national and municipal railway traffc. Seven commuter trains, "S-Bahnen," start from here, as well as four underground lines, "U-Bahnen" and numerous trams and buses leave in all directions from here.
During the "Frühlingsfest," the "Wintertollwood" in December and the world famous Oktoberfest most visitors board the U4 or U5 trains at the Hauptbahnhof and get off at the next stop, Theresienwiese is still part of the Ludwigsvorstadt district and always worth a visit. Particularly the 18-meter high Bavaria Statue and the "Ruhmeshalle" (Hall Of Fame) behind it are popular tourist attractions. Inside the latter, deserving men and women from Bavaria are commemorated by busts.

Another Ludwigsvorstadt sight is the neogothic St.-Pauls Church that boasts Munich's second highest church tower. And on Bayerstraße you can find the city's biggest movie theater, the "Mathäser-Filmpalast," that attracts plenty of tourists and natives alike, just like the "Deutsches Theater" on Schwanthalerstraße.

The remainder of the district is dominated by administrative and office buildings, numerous hotels and restaurants. Almost two million visitors spend a night at this district every year, most of them during the Oktoberfest of course. Thousands more come to Ludwigsvorstadt not to enjoy themselves, but stay at various departments of the University Hospitals that are located east of the Theresienwiese, as patients.
Highlights
---
Theresienwiese & Bavaria
The statue of Bavaria, modeled after the German heroine Brunhilde, towers over Theresienwiese with her oak garland and sword. You can enjoy great views of Munich from her head. The Ruhmeshalle (Hall of Fame) was dedicated by Ludwig I to outstanding Bavarians in 1853. The Theresienwiese serves as a site for major events, such as the Oktoberfest or the Tollwood Winter Festival all year round.
The Oktoberfest
Six million liters of beer are drunk, 600,000 chickens and 95 oxen are eaten, there are 2,500 medical emergencies and six million visitors. These staggering statistics best describe the world-famous Oktoberfest, the biggest public festival in the world. The Oktoberfest started off as a horse race to celebrate the wedding of Crown Prince Ludwig and his bride Therese Charlotte Luise in 1810. Revellers drink and dance themselves sick in 14 beer tents. The Schottenhamel tent is particularly popular among young people eager to flirt. The atmosphere is just as hot in the biggest tent, the 9,800-seat Hofbräu. This tent mainly caters to an international crowd. The young and the famous alike like the Hippodrom. The Käfer tent is where the stars and celebrities party among their own kind. If you want a seat in one of the beer tents, especially at weekends, get there at midday because a lot of tents close their doors as early as 2 pm due to overcrowding – although if you're very patient and lucky you might be able get into the madhouse by skipping past a bouncer at a side door. The huge fun-fair is another highlight of this mega party. And anyone who dares to ride the rollercoaster after four liters of beer shows true greatness!
›› Oktoberfest, 16.09.-03.10.2006, U4/5-Theresienwiese, daily: 10am-11.30pm
›› Brewers parade at 1st day 10.45am-noon
›› Family days: special rates 19.09. & 26.09.2006
›› Concert of brass bands, 24.9.2006, 11am, Theresienwiese, Bavaria Statue
›› www.oktoberfest.de
Die Tollwood-Festivals
Art, theatre, rock and jazz all feature on Tollwood's entertainment program. This big cultural extravanganza takes place twice a year in seven tents. Up to 900,000 people throng to Olympia Park South for the Tollwood Summer Festival and around 500,000 guests enjoy the colder but equally spectacular Tollwood Winter Festival at Theresienwiese with "Munich's most beautiful Christmas Market". Note: There's no single Tollwood festival ticket. You have to buy separate tickets for concerts in the two big entertainment tents.
›› www.tollwood.de