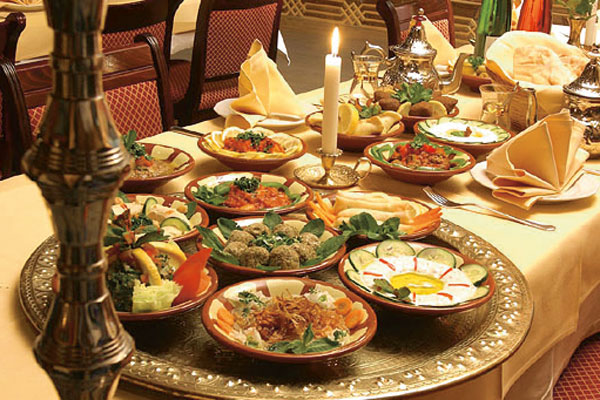 Arabesk
African
---
Blue Nile 1+2
Ethiopian cuisine in two very nicely decorated restaurants. Everything is served on a platter and you eat with your fingers. The honey wine is recommended.
›› Schwabing, Siegesstr. 22a, Tel. 34 23 89
›› Schwabing, Victor-Scheffel-Str. 22, (Eingang Belgradstr.), Tel. 33 03 99 87


›› Back
Creole
---
Coco de mer
Lovers of exotic delicacies can eat their fill at Coco de mer, a unique restaurant with authentic Seychellois cuisine. In Munich's Dreimühlen quarter, diners can escape everyday cares for a few hours with grilled fish fillet with pineapple-chili sauce and fried strips of yam or flambéed coconut milk flan. Also adding to the holiday mood are the unconventional but friendly interior decor and large summer terrace.
›› Isarvorstadt, Dreimühlenstr. 30, Tel. 1 39 27 65 03, www.coco2mer.de


›› Back
Middle East
---
Arabesk
Beautifully decorated restaurant in a cellar with original Lebanese cuisine. Lamb, chicken, game or fish are served as a main course with Arabian coffee or tea and sweets for dessert. Regular belly dancing and live music too.

›› Schwabing, Kaulbachstr. 86, Tel. 33 37 38, www.arabesk.de

Cedar Lounge
Nice, modern Lebanese restaurant, with an appetizing showcase of fresh seafood.
›› Bogenhausen, Rosenkavalierplatz 12, Tel. 92 98 99 99, www.cedar-lounge.com

Chopan
Afghan specialties from pumpkin to lamb done in many different ways, suitably furnished with objects from Aladdin and his Magic Lamp.
›› Haidhausen, Rosenheimer Str. 6, Tel. 44 11 85 71
›› Neuhausen, Elvirastr. 18a, Tel. 18 95 64 59
›› www.chopan.de

Deeba
Unique Pakistan specialties in a low-lit intimate atmosphere, an ideal place to eat after a visit to the Pinakothek art museums.
›› Max­vorstadt, Barer Str. 42, Tel. 28 34 07, www.deeba.de

Dehbaschi
Good Persian food in an expensively decorated setting with many Oriental delicacies. Especially exotic is the saffron ice cream with pistachio and rose water.
›› Maxvorstadt, Dachauer Str. 36, Tel. 55 02 96 30, www.dehbaschi.de

Hindukusch
This beautiful restaurant offers excellent Afghan cooking and a comfortable lounge area that invites you to enjoy a cup of tea.
›› Haidhausen, Bazeillestr. 5, Tel. 44 76 98 99, www.hindukusch.com

Ksara
Magical restaurant with many enchanting candles and mirrors. Lebanese specialties along with Lebanese wine.
›› Schwabing, Haimhauserstr. 7, Tel. 33 08 82 97, www.ksara.de

Lemar
An oasis in the big city desert: here you'll find a stylish interior without a lot of kitsch where you'll feel right at home. If you also order one of the exotically seasoned rice dishes and a refreshing Afghan yoghurt drink, you'll soon forget the stress of everyday life.
›› Altstadt, Brunn­str. 4, Tel. 26 94 94 54
›› Schwabing, Viktor-Scheffel-Str. 23, Tel. 39 76 77
›› www.lemar-restaurant.de


›› Back
Indian
---
Dhaba
You won't find typical Bollywood kitsch in this Indian restaurant. Instead you'll dine in tasteful, very spacious premises with dark-red walls and white tablecloths. The Indian food is so exquisite that you won't forget the taste quickly – after all who can resist delicacies such as Tandoori Chicken with ginger and garlic?
›› Schwabing, Belgradstr. 16, Tel. 38 36 77 71, www.dhaba.de

Ganesha
Cozy eatery with lots of decorative lanterns dangling from the ceiling and wonderful food.

›› Haidhausen, Rosenheimer Str. 113a, Tel. 4 48 09 62, www.ganesha-muenchen.de

Ganga
Not only the atmospherically beautiful décor and the excellent service, but above all the lovingly-prepared food will enchant you.
›› Isarvorstadt, Baaderstr. 11, Tel. 2 01 64 65

Goa
Red and yellow interior, classic Indian cuisine with finest, fresh ingredients.
›› Lehel, Thierschstr. 8, Tel. 21 11 17 89, www.goarestaurant.de

Maharaja
Classic Indian speciality restaurant with all imaginable dishes on offer, delivery service, lunch-time menu during the week. Outdoor tables.
›› Neuhausen, Blutenburgstr. 79, Tel. 1 30 124 82, www.maharajamunich.com

Kerala
Kerala is Munich's first restaurant to offer cuisine from southern India in all its richness. The restaurant's name translates as land of coconut trees and it brings a taste of the exotic to Bavaria. All dishes taste simply marvellous. The giant shrimp dish with fresh mango, coconut and almond cream sauce is divine, as are the many vegetarian dishes, all served with lemon basmati rice.
›› Bogenhausen, Schumannstr. 9, Tel. 41 20 05 48, www.kerala-restaurant.de

Maharani
Established über 20 years and one of the oldest Indian restaurants in Munich. Indian specialties from Tandoori to lamb curry at fair prices.
›› Maxvorstadt, Rottmannstr. 24, Tel. 52 79 12, www.maharani1-muenchen.com

Natraj
Charming little restaurant,where Ayurvedic recipes are prepared. Ideal for a romantic evening, friendly service and good food, lovely garden setting.
›› Maxvorstadt, Nymphenburger Str. 26, Tel. 12 00 12 62, www.natrajmuenchen.de

Noor-Jahan
This restaurant has been indulging its guests for over 15 years with tandoori, curry dishes and biryanis. Cozy interior and idyllic backyard garden; also home and party service.
›› Schwabing, Kaiserstr. 5, Tel. 34 80 09, www.noor-jahan.de

Royal India
Indian food for epicures: the food at the Royal India, with its exotic and spicy pleasures, is waiting for hungry stomachs. When you taste the tandoori chicken, Bombay alu or the delicious Thalis for two, it will feel as if the sun is rising, and you will immediately feel closer to India than you expected.
›› Westend, Westendstr. 117, Tel. 50 07 37 37, www.royal-india.de

Sangam
Rustic, authentic ambiance. Every table has its own name, so that you can reserve your favorite place. The dishes are a real treat.
›› Schwabing, Franz-Joseph-Str. 28, Tel. 34 02 32 15, www.sangam-online.de

Sangeet
Sangam's little sister, beautifully decorated, remarkable spicy Indian food, centrally located close to Odeonsplatz.
›› Maxvorstadt, Briennerstr. 10, Tel. 28 67 45 57, www.sangeet-online.de

Sarovar
Pretty, romantic location, amply decorated, serving classic Indian food, special lunch offers, close to campus.
›› Maxvorstadt, Fürstenstr. 12, Tel. 28 99 66 89, www.sarovar.de

Satluj
Small elegant restaurant with large French windows open in summer and a terrace, only serving hot spicy food on request.
›› Haidhausen, Wörthstr. 9, Tel. 48 00 22 30

Shalimar
Great Indian and Pakistani food, bright red, romantic interior with cozy lounge corners.
›› Isarvorstadt, Morassistr. 16, Tel. 21 02 06 76, www.isartor-shalimar.de

Shanai
Restaurant decorated with elegant drapes and bathed in warm light. But the comfortable ambience merely sets the stage for the perfectly spiced Indian Tandoori and curry specialties. Mo-Fr lunch buffet served with traditional chai.
›› Schwabing, Ungererstr. 56, Tel. 30 66 89 37, www.shanai-munich.de

Sitar
Scents of fine Indian herbs in the air and delicious tandoori specialties on the table, always excellently prepared at the Sitar.
›› Lehel, Robert-Koch-Str. 4, Tel. 21 11 23 61, www.sitar-indisches-restaurant.de

Surbahar
Traditional Indian restaurant where light Indian ingredients stand in the foreground. Healthful eating in authentic ambience, at moderate prices, complete satisfaction.
›› Haidhausen, Flurstr. 32/Ecke Einsteinstr., Tel. 41 55 96 81, www.surbahar.de

Sur Bollywood
One more reason to take a trip to Starnberg: excellent north Indian cuisine served in a beautiful interior, complete with glass-roofed winter garden and separate summer garden. Specialty: Bollywood films are shown on an interactive screen.
›› S6 to Starnberg, 82319 Starnberg, Theresienstr. 9, Tel. 0 81 51/66 64 95, www.surbollywood.de

Swagat
Well-known first-class restaurant in the basement, with highly qualified cooks from five-star Indian restaurants; also popular with celebrities. Very cozy interior, several rooms and a beautiful bar, the house specialties are items from the charcoal tandoori oven. Reservations recommended, Mo-Fr lunch buffet.
›› Bogenhausen, Prinzregentenplatz 13, Tel. 47 08 48 44, www.swagat.de

Taj Mahal
Amply decorated with Sari fabrics and statues of deities. Cozy torch-lit terrace in the summer. Nice, traditional Indian food which vegetarians will also enjoy. Very inexpensive lunch menu during the week.
›› Neuhausen, Nymphenburger Str. 145, Tel. 12 00 70 50, www.taj-mahal-muenchen.de


›› Back
Turkish
---
Diyar
This Kurdish-Turkish tavern doesn't only attract customers on the terrace in the summer; it also draws them inside with live music and belly dancing. The menu lists many delicious lamb and fish dishes, as well as vegetarian food and delicious desserts.
›› Haidhausen, Wörthstr. 10, Tel. 48 95 04 97, www.diyar.de

Merhaba
Now an institution in Haidhausen, neighbors, friends and people from many countries meet here, very good food, various cultural events.
›› Haidhausen, Pariser Str. 9, Tel. 4 48 70 67, www.merhaba-taverne.de

Pardi
Despite the unusual decor, the Pardi has become the trendy tavern with typical Anatolian food.
›› Neuhausen, Volkartstr. 24, Tel. 13 18 50, www.pardi-restaurant.de


›› Back