As soon as the lively birds start to chirp their spring songs, the Starkbierzeit (strong beer festival) comes to an end, the weather gets warmer and the first buds begin to sprout, beer garden season is here again at last. In Bavaria the season lasts from April to October, depending on the weather. During this time people gather under the mighty tree crowns to enjoy a sociable beer and a grilled fish or chicken.

Sitting on the long wooden benches under ancient chestnut trees, beer garden visitors happily start their free evenings or weekends. If someone lifts up their glass, then everyone else sitting at the table does the same. It takes a while until you've clinked every body's glass. Only then can the golden liquid flow down your parched throat. This ritual is repeated many times on warm summer evenings in the 100 beer gardens in and around Munich. In this way you can make some nice beer garden friends and hold deep philosophical discussions until the last drop is drunk.

We can thank the Bavarian brewing laws of 1539 for this beer garden culture. The law banned beer brewing in the summer months because of the fire risk. To avoid being left high and dry in the summer, brewers laid down stores of beer in cellars and planted shady chestnut trees above them to keep the barrels cool. Then they started to serve their beer starting the beer garden tradition that's lasted down the centuries. The old law also ruled that only drinks could be sold in these gardens so another tradition developed that's still valid today. Everyone is allowed to bring their own food to beer gardens, even if there are stands serving hot and cold food..

The Hirschgarten, Munich's biggest beer garden, is especially popular for a picnic. It has 8,000 seats so you're sure to find an empty table. You'll also always find a place to sit in Munich's second biggest beer garden at the landmark Chinesischer Turm in the middle of the English Garden (7,000 seats). But it can be hard to find an empty table in the busy Augustinerkeller near the Hauptbahnhof. The central location of this quintessential beer garden attracts up to 5,000 thirsty souls at most times. Also it serves Augustiner, Munich's most popular beer. Many of Munich's beer garden are popular destinations for a cycle ride along the Isar river at the weekends, for example the Waldwirtschaft, Menterschwaige or the Aumeister.


Munich' beer gardens at a glance
Augustiner-Keller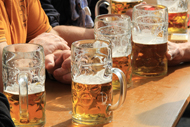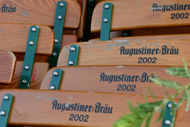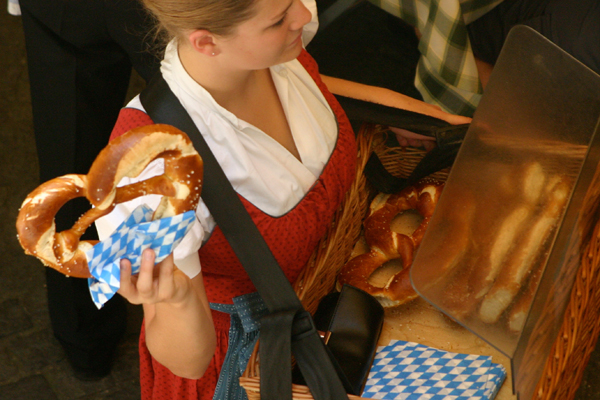 This traditional jewel is located near Munich's Hauptbahnhof and the headquarters of Bavaria's public broadcaster. It belongs to the Augustiner brewery, which brews Munich's most popular beer. It's pretty and is a typical Munich beer garden and is always busy. Its appearance hasn't changed since 1895 and 45 of the beer garden's 100-plus chestnut trees are protected by conservation regulations. There's even a lightning conductor among the tables to make sure that hard-drinking guests can still enjoy their beer during summer storms.
Open daily 10 am - 1 am. 5,000 seats, children's play area
›› Maxvorstadt, Arnulf Str. 52, Tel. 59 43 93, www.augustinerkeller.de


---
Chinese Tower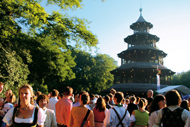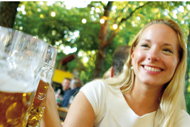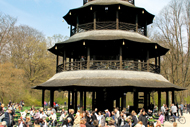 The Chinese Tower is in the English Gardens near the Monopteros monument. Tourists, local residents, office workers, families and students from the nearby university all flock here. A highlight is the brass band that performs from the tower on Wednesdays from 4 pm, Saturdays from 1 pm and Sundays from 12 noon. The music can be heard as far away as the lecture rooms and libraries in the institutes near the park. The traditional Kocherlball (cooks ball) takes place here every year starting at 5 am on an Sunday morning in July. Many Munich traditionalists dressed in 19th century costumes gather here on that day to dance through dawn. In former days, the ball was for servants who had to go to work later.
Open daily 10 am to midnight. 7,000 seats, children's play area, vintage fairground rides, WiFi -- e-garten.net
›› Altstadt-Lehel, Englischer Garten 3, Tel. 38 38 73-0, www.chinaturm.de


---
Hirschgarten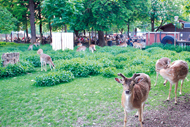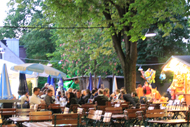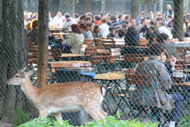 Munich's biggest beer garden has a special attraction that gives it its name – red deer. That's because a zoo was created here at the end of the 18th century by order of the Prince Elector Karl Theodor when an earlier silkworm farm didn't make enough money. In 1791, a hunting lodge was built and a beer garden opened at the same time. There are five kiosks serving Augustiner beer, as well as the usual beer garden food. Football matches are screened live. A special feature of this beer garden is that you have to fetch and wash your beer glass yourself.
Open daily from 11 am to midnight. 8,000 seats, children's play area.
›› Neuhausen-Nymphenburg, Hirschgarten 1, Tel. 17 99 91 19, www.hirschgarten.de


››
---
Hofbräuhaus München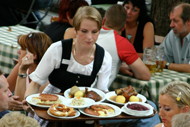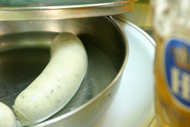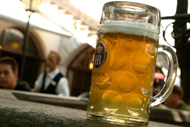 The legendary Hofbräuhaus beer hall in Munich also has a small beer garden that's a good place to hang out in during the summer. This small oasis hidden behind the walls of a 16th century historic building erected by Duke Wilhelm V of Bavaria offers a welcome distraction from the tumult of the city center, as well as delicious food.
Open 9 am to 11.30 pm, 400 seats, no play area.
›› Altstadt-Lehel, Platzl 9, Tel. 29 01 36-1 00, www.hofbraeuhaus.de


---
Hofbräukeller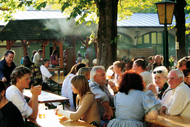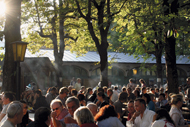 The idyllic beer garden in Haidhausen is popular with the residents and correspondingly well attended. Therefore younger guests frequently switch to the meadow close-by armed with one or the other beer and blankets. The price cutting campaigns are also welcomed. Originally the building has been built as an beer cellar at the end of the 19th century and the wooden arcades of the old stables were preserved till today. At the place of the former brewery now are housing areas.
Opening hours daily 10 am to 11 pm, 2 100 seats, play area, cocktail bar
›› Au-Haidhausen, Innere Wiener Str. 19, Tel. 45 99 25-0, www.hofbraeukeller.de


---
MichaeliGarten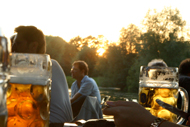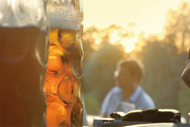 This beautiful example of a beer garden is in the middle of Ostpark at a lake. Who has splashed about in Michaelibad in midsummer can eat and drink something here afterwards. Thanks to its position the ambience is rather relaxed and you can end the evening harmoniously whilst watching the golden sunset on the surface with its happily sparkling fountain. Löwenbräu and Paulaner are served.
Open daily 10 am to 11 pm, 2 400 seats, play area
›› Neuperlach, Feicht Str. 10 (im Ostpark), Tel. 43 55 24-24, www.michaeligarten.de


---
Paulaner am Nockherberg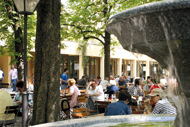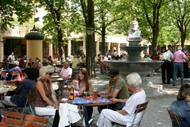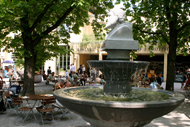 Paulaner Garten at Nockherberg is belonging to the Paulaner brewery. 1999 Paulaner cellar and the restaurant above fell victim to an arson that is still unsolved. After the troublesome blaze everything was reconstructed till 2003. And it was not too bad, because after all the famous beer garden has been elected the most beautiful beer garden of Munich for the sixth time by the readers of AZ (Abendzeitung newspaper). Apart from that the traditional strong beer tapping takes place here in March each year.
Service open 10 am to 1 am, self service area opten 12 pm to 12 am, 2 500 seats, play area
›› Giesing, Hoch Str. 77, Tel. 45 99 13-0, www.nockherberg.com
---
Seehaus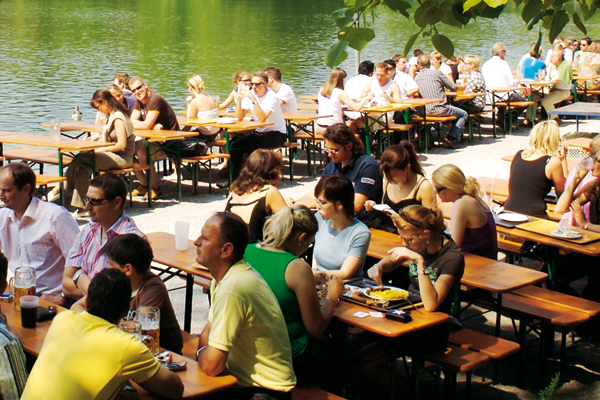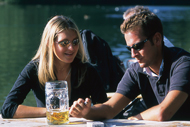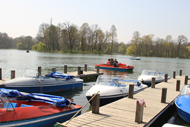 Seehaus is in the north of Chinesischer Turm, directly at Kleinhesseloher See. Here you´ll find more hip people and prices are commensurate. Right at the beer garden you´ll find a boat rental, which invites you to take a boat trip across the lake There you may accompany the gracile swans, something you are not allowed to do by swimming though. Also in wintertime when the weather is nice, there´s a lot going on and you can watch the ice skaters or venture yourself onto the icy surface.
Open daily 10 am to 1 am, 2 600 seats, play area, opened the whole year
›› Englischer Garten, Kleinhesselohe 2, Tel. 38 16 13-0
www.kuffler.de/de/muenchen/seehaus/index.php


---
Viktualienmarkt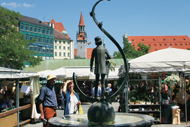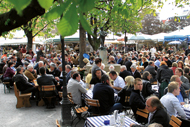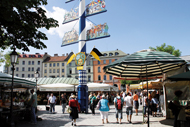 The beer garden at Viktualienmarkt lies directly in the heart of the capital city and near Marienplatz and the large shopping mile Kaufingerstraße. Here you can relax very well after a shopping tour or bargaining on the market place. Thanks to the many tasty food stalls on Viktualienmarkt you have got a huge choice of food for your beer garden picnic.
Opening hours: Mon-Sat 9 am to 10 pm, closed on Sun, 1 100 seats, no play area
›› Altstadt-Lehel, Viktualienmarkt 9, Tel. 29 75 45


---
Zum Flaucher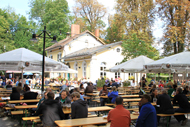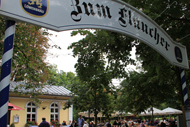 The beautiful beer garden on an isle in the middle of Isar, the Flaucher, is existing since 1873 and therefore you can reach it best by foot or by bike. After a bike trip through the lush green Isar meadows the stop suits very well for a break without any street noise. The ones who don´t get a seat on the benches can retrieve themselves onto the adjoining Flaucher lawn. Moreover the swimming bath Maria Einsiedl and the zoo Hellabrunn are nearby! At the moment it´s closed because of construction works, therefore it´s advisable to look on and off onto the homepage (see below).
Open 11 am to 10.30 pm, 1 700 seats, play area
›› Sendling, Isarauen 8, Tel. 7 23 26 77, www.zum-flaucher.de


››
---
More beer garden addresses at a glance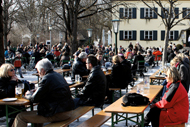 Aumeister

This popular destination is at the northern border of the Englischen Garten. It was built in 1810 and at that time was official residence of the royal Aumeister. Today the play area, nostalgic carousel and magician Pepino (only on Sundays) are entertaining the littel guests.
Open on Mon-Sun 10 am to 11 pm, 2 500 seats
›› Englischer Garten, Sondermeier Str. 1, Tel. 18 93 14 20, www.aumeister.de


---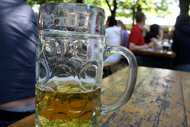 Insel-Mühle

One of the most beautiful beer gardens in Munich´s surrounding area. Idyllically it´s surrounded by the Würm, populated by ducks and offers an happy hour. In addition there is a hotel belonging to it.
Open: daily 11 am-10 pm, ca. 800 seats, play area
›› Allach-Untermenzing, Von-Kahr-Str. 87, Tel. 8 10 10, www.inselmuehle-muenchen.de



---
Kugler Alm

Rumour has it that here in 1922 because of the scarceness of beer the Radlermaß (mixture of beer and lemonade) has been invented. This beer garden is a popular destination for bikers and hikers. Including a stop to inflate your bike as well as 400 bicycle stands.
Open: 10.30 am-10.30 pm, 2 400 seats, play area
›› Oberhaching, Linien Str. 93, Tel. 61 39 01 20
www.kugleralm.de


---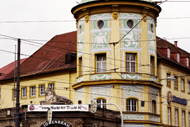 Löwenbräukeller

The beer garden is near a road traffic at Stiglmaierplatz. But in return it´s very comfortable and good attainable by public transport.
Opening hours: daily 10 am-12 am, ca. 1 000 seats, no play area
›› Maxvorstadt, Nymphenburger Str. 7, Tel. 52 00-0, www.loewenbraeu.de




---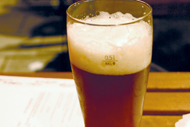 Max Emanuel Brauerei

The authentic beer garden is located near the university and shows live soccer games as well. Since 2000 guests can draw their beer by themselves at a table (for ca. 20 persons) with a mini beer bar. You should make a reservation before, however.
Open: daily 11 am-11 pm, ca. 750 seats
›› Maxvorstadt, Adalbert Str. 33, Tel. 2 71 51 58
www.max-emanuel-brauerei.de


---
Menterschwaige

Popular place of excursions high above the Isar, but comparatively expensive. There´s amongst other things a pirate ship to scramble for the little ones and for the big ones there´s exclusive fish on a stick by Fischer-Vroni and Nürnberger bratwurst by Glöckl am Dom.
Open: 10 am-10 pm, ca. 2 000 seats, play area
›› Harlaching, Menterschwaig Str. 4, Tel. 64 07 32, www.menterschwaige.de


››
---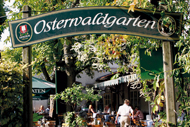 Osterwaldgarten

One of the last authentic Schwabing inns with a little beer garden, idyllically situated on the verge of Englischer Garten. The food ist plain style and the thirst is quenched by Spaten, Löwenbräu and Franziskaner.
Open: daily 10 am-11 pm, no play area
›› Schwabing-Freimann, Kefer Str. 12, Tel. 38 40 50 40, www.osterwaldgarten.de


---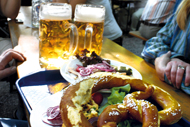 St. Emmeramsmühle

Beautiful typical beer garden, surrounded by old, partly historical masonry and pictorial ambience. After the First World War the mill business ceased and today you meet one or the other prominent person.
Opening hours: 11 am-1 pm, 1 200 seats, play area
›› Oberföhring, St. Emmeram 41, Tel. 95 39 71
www.emmeramsmuehle.de


---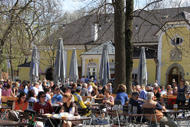 Taxisgarten

This beer garden is existing in the middle of Neuhausen since 1924. Here people like to meet after events taking place in Olympia stadion nearby.
Opening hours: 10 am-11 pm, 1 500 seats, play area
›› Neuhausen-Nymphenburg, Taxis Str. 12, Tel. 15 68 27
www.taxisgarten.de


---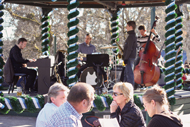 Waldwirtschaft Großhesselohe

"WaWi" in the south of Munich above the Isar shore is a popular destination for northern lights and starlets. They play live jazz music
Opening hours: 11 am-11 pm, 2 000 seats, play area
›› Pullach-Großhesselohe, Georg-Kalb-Str. 3, Tel. 74 99 40 30,
www.waldwirtschaft.de


---
Even more beer gardens...
Backstage Nachtbiergarten
In the alternative beer garden of Backstage, which is open throughout the night, the younger ones are cavorting and a Maß costs only 4,80 euros.
Openen: daily 6 pm to open end, ca. 250 seats
›› Neuhausen-Nymphenburg, Reitknecht Str. 6, Tel. 12 66 10-0
www.backstage.eu

Biergarten am Muffatwerk
This beer garden lies hidden behind walls at the Isar, because of this position it´s opened long and is a certificated eco business.
Opening hours: Mon-Thu from 5 om, Fri-Sun from 12 pm, 300 seats, sandbox
›› Au-Haidhausen, Zell Str. 4, Tel. 45 87 50-80
www.muffathalle.de/Gastronomie/Biergarten.html

Brauhaus zur dicken Sophie
The favorite beer garden of the Unterföhring media industry offers very delicious food in personal ambience.
Opening hours: daily 10 am-01 am, ca. 600 seats
›› Bogenhausen, Johanneskirchner Str. 146, Tel. 95 95 36 34
www.dicke-sophie.de

Fischmeister
The comortable authentic beer garden is located at Starnberger See, where you can strengthen yourself with organic food after bathing.
Open: Wed-Fri 4 pm-12 am, Sa&So 12 pm-12 am, ca. 100 seats
›› Ambach, Seeufer 31, Tel. 0 81 77/5 33

Forsthaus Kasten
This recommendable destination is in the middle of the forest. In the fruit garden under cherry trees you can enjoy the excellent Bavarian food. The little ones can play in the adventure play area and the animal park.
Opening hours: 11 am-12 am, ca. 2 000 seats, play area
›› Forstenrieder Park, zwischen Neuried und Gauting, Tel. 8 50 03 60
www.forst-kasten.de

Franziskanergarten
The introspective beer garden in Trudering is popular with the old and the young and doesn´t leave open any food desires.
Open hours: 10 am-12 am, 2 300 seats, play area
›› Trudering, Friedenspromenade 45, Tel. 4 30 09 96
www.franziskanergarten.de

Hinterbrühl am See
This beautiful beer garden is directly in the Isar meadows at a rafting station and has been a lime kiln in the 18th century.
Open: 11 am-11 pm, 1 500 seats, play area
›› Thalkirchen-Obersendling, Hinterbrühl 2, Tel. 79 44 94
www.gasthof-hinterbrühl.de

Menzinger's
Italien food and beer garden. Open daily from 11 am to 1 am.
›› Obermenzing, Menzinger Str. 123, Tel. 89 16 19 41
www.menzingers.de

Park Café
Hidden in the old botanic garden beyond the traffic hustle and bustle at Karlsplatz Stachus.
Open: 11 am-11 pm, ca. 2 000 seats, no play area
›› Maxvorstadt, Sophien Str. 7, Tel. 51 61 79 80
www.parkcafe089.de

Pe.Es. Kottmeier
An institution for people from Planegg, particularly for the youngsters, directly at the Würm river.
Opening hours: 11.30 am-1 am, 400 seats
›› Planegg, Bräuhaus Str. 18, Tel. 89 93 00 30
www.pe-es.de

Tassilogarten
Little beer garden oasis, which also shows internationally important soccer games like the world cup on a big live screen. Here you can comfortably enjoy your snack under chestnut and oleander trees.
Opening hours: 10 am-12 am, 330 seats
›› Au-Haidhausen, Auerfeld Str. 18, Tel. 4 48 00 22
www.tassilogarten.de

Villa Flora
In the familiar ambience every guest fells at ease and the little ones aren´t missed out either.
Open: 10 am-11 pm, Sun-Thu to 2 am, ca. 1 100 seats, play area
›› Sendling-Westpark, Hansa Str. 44, Tel. 54 71 75 75
www.villa-flora.com

Wirtshaus Obermühltal
Brilliant place for excursions by bike Radltouren between Starnberger See and Pasing. Fri-Sun live music!
Opening hours: 10 am-11 pm, 550 seats
›› Starnberg-Mühltal, Obermühltal Str. 130, Tel. 0 81 51/85 85


Wirtshaus zum Isartal
This particluar beer garden attracts a colorful audience and thanks to the canvas blind you can have it comfortable there even if it´s raining.
Opening hours: 11 am-01 pm/3 pm, ca. 200 seats
›› Sendling, Brudermühl Str. 2, Tel. 77 21 21
www.wirtshaus-zum-isartal.de

---
››
Strong beer festival in Munich
››
››