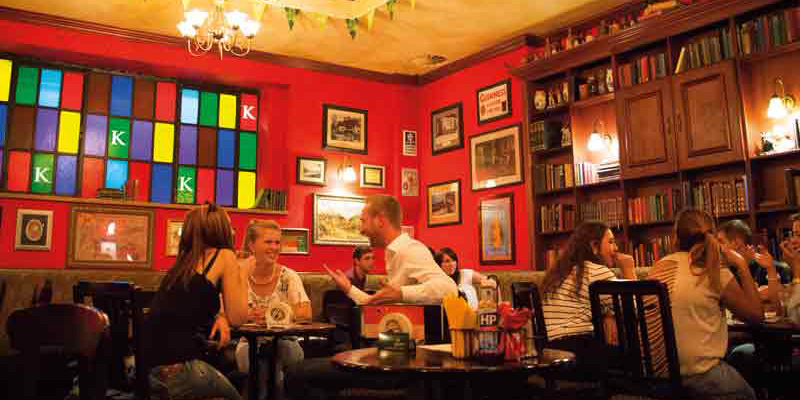 Kennedy's
Munich's nightlife is colorful and diverse. You can find bars ranging from the trendy to seedy. Whether you go out for an evening in the Glockenbach area, Schwabing or in Haidhausen the distances from one bar to the next are short and the nights long. The Altstadt (Old City) is nowadays getting ever more busy after the sun sets and shoppers have gone home. Lots of celebrities and wannabes meet in Munich's most legendary night-spot, Schumanns Bar.

If you want to experience a trendy place like you'd find in Berlin, you should check out Kreuz 16. You'll be surprised by the unusual ambience of this little bar! If you like it there, you'll certainly find a favorite bar in the Glockenbach area, around Gärtnerplatz. Here there are casual small cafés such as Tagträumer and off-the-wall bars like Trachtenvogl or Holy Home. You'll find the most lively bar mix the city has to offer here. But what makes the area even more colorful are the rainbow flags waving at many bars – Glockenbach is also the home of the city's gay and lesbian scene.

In Haidhausen, you'll also discover many spots with a cult character that are a permanent fixture in the Munich bar scene. These include Juleps, EscoBar and Lisboa Bar in Haidhausen's "Bermuda Triangle'' of Breisacher Straße/Elsässer Straße. Another natural place to go to is the cult Johanniscafé, which is still catering to night owls early in the morning.

Munich's most well-known nightlife area is Schwabing and next-door Maxvorstadt. They have plenty to offer, such as the Schwabinger Podium live-music pub where they've been rocking for more than 30 years. In Schwabing and Maxvorstadt you'll find the right place to sit whatever your preference, whether it's a wooden bench in the traditional Alter Simpl pub or a bar stool in the new Martini-Club.

After hitting the bars, you might want to go on to one of Munich's popular nightclubs. Sonnenstraße has developed into Munich's top party street in the last few years. You'll find over 15 very different clubs within just a kilometer and even long-established Munich club classics such as 8 Seasons and Harry Klein have moved here. The "in'' crowd and celebrities hang out in the legendary P1 club, while 1980s enthusiasts prefer the Paradiso Tanzbar, which also stages burlesque shows.