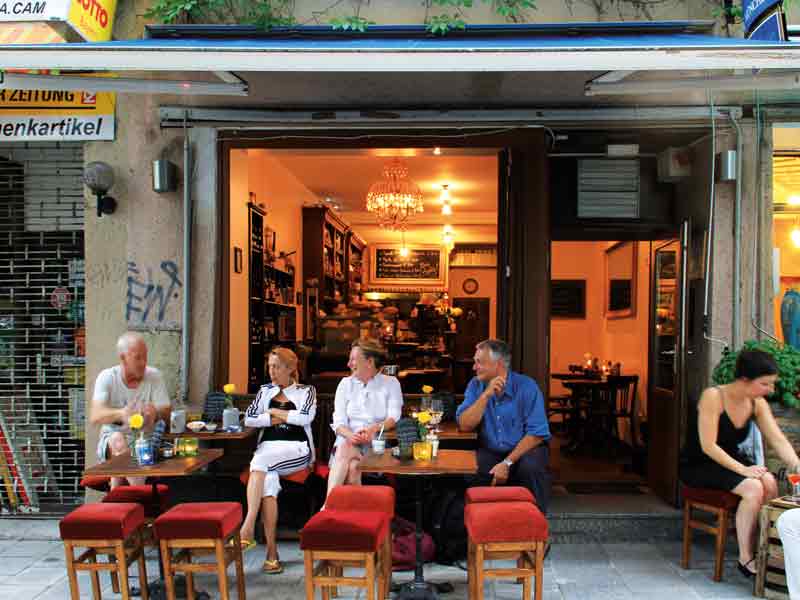 Lollo Rosso
You'll find the right restaurant for all occasions and all tastes in Munich – whether you're looking for a romantic candle-lit dinner, a business meal or a social get-together with other Munich newcomers. In fact, there are over 5,000 restaurants with cuisines from many nations vying for your attention. Even if you tried a different one every day, it would still take almost 14 years to get through them all!
Italian cuisine is most strongly represented in Munich, probably because of the city's proximity to Italy – it's not without reason that Munich is often called the northernmost city in Italy. Especially worthy of mention are pearls such as the exclusive Italian Aquarello with its wonderful Mediterranean ambience and Bei Raffaele with its very impressive authentic Neapolitan oven. Fans of Asian cuisine might want to try Emiko, a high class Japanese restaurant in the Louis Hotel at the Viktualienmarkt, or Mongo's, with its unique Mongolian barbecue concept.

Every Munich newcomer should try Bavarian cuisine, of course. The Wirtshaus in der Au or the legendary Paulaner on Nockherberg are among the most recommendable traditional Bavarian restaurants. But not to be forgotten are the typical Munich beer gardens, in which half the city gathers on warm summer evenings to sit on long wooden benches, enjoying a liter of beer while philosophizing about life.

We can thank the Bavarian Brewing Law of 1539 for this beer garden culture. Back then brewing beer in the summer months was banned because of the fire risk. Brewers laid down stores of beer in cellars to avoid beer-less summers and planted shady chestnut trees to keep the barrels cool. Then they started to serve their beer under the spreading chestnut trees – launching a tradition that's lasted down the centuries. The old laws also ruled that only drinks could be sold in these beer gardens so another tradition developed – bringing your own food.

The Hirschgarten, Munich's biggest beer garden, is especially popular for a picnic. It has 8,000 seats so you're sure to find an empty table. You'll also always find a place to sit in Munich's second biggest beer garden at the landmark Chinesischer Turm in the English Garden (7,000 seats). But it can be hard to find an empty table in the busy Augus­tinerkeller near the Hauptbahnhof. The central location of this beer garden attracts up to 5,000 thirsty visitors. Augustiner is also served here – it's Munich's most popular beer.