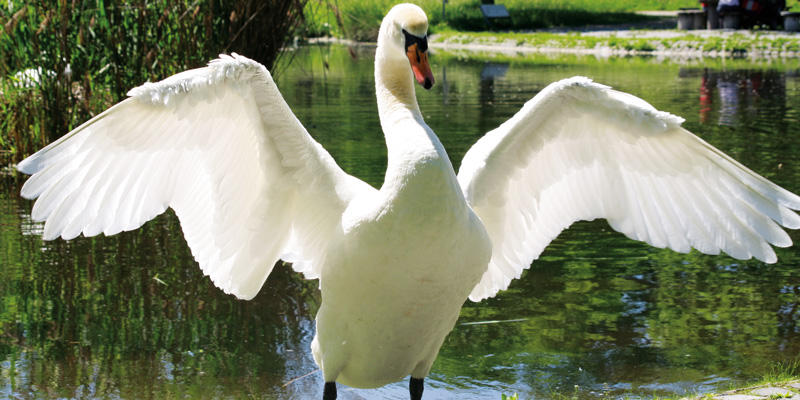 Forests, forests, forests – you will almost find too many of these in Stuttgart´s environs.
The many wooded hills around the valley basin of Stuttgart provide an infinite number of recreational activities, tempting you to go hiking, picnicking, jogging, cycling or horse-riding.
You´ll always find a wonderful sport with a terrific view over the city sooner or later.
There are many ways leading upwards.
By car to the Grabkapelle chapel, with the elevator to the viewing platform on the television tower or by foot along the "Stäffele" historic staircases to various other lookout points on the hills within the city.
Even larger, and with even more forests and hills, are the natural parks outside the city, such as the Schönbuch park, the Schwäbisch-Fränkische forest or, of course, the nearby Black Forest.
All of these have countless options for hiking trips, as well as many cultural highlights.

These include, castles, palaces and monasteries from times gone by, such as the Bebenhausen Cistercian monastery, the best-preserved monastery in Germany.
There´s also lots for children to do during day trips.
For example, if you visit Ludwigsburg castle together wit you children, you shouldn´t miss the lovingly designed fairy-tale garden, in which even grown-ups can return to their childhood.

And there´s no need to leave the urban area for a brief outing during the week.
Stuttgart´s "Green U", an eight kilometer-long complex of parks, is like a green ribbon that winds through the city´s north, connecting several parks with one another using pedestrian bridges.

The green ribbon starts at the Schlossgärten gardens and ends at the Höhenpark Killesberg park where the Killesbergturm tower is the crowning glory.
If you don´t like lying on the green grass so much, but prefer floating on the water, you should go to the Max Eyth lake, where you can leap into one of the pedal boats and take a pleasant cruise over the little lake.