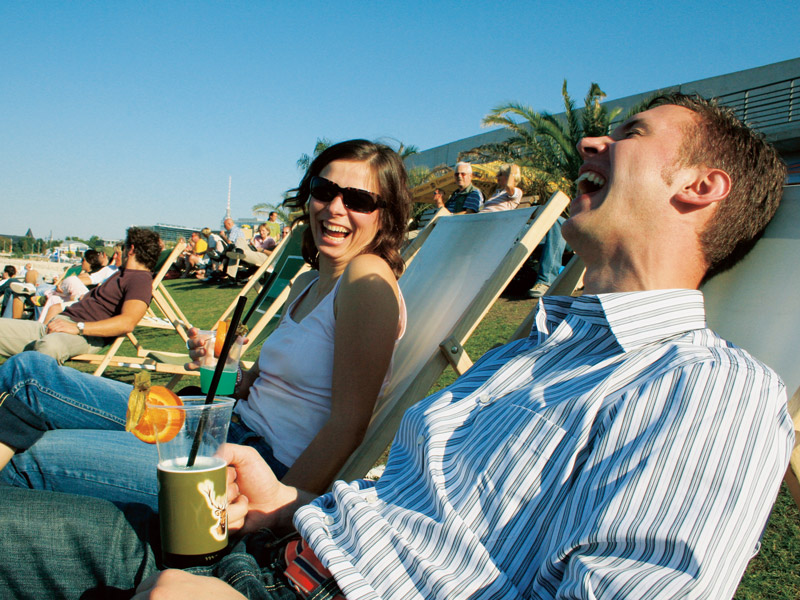 Capital Beach
It all began at a small square on the banks of the river Spree, not far from the Museumsinsel and the city center. This once was the home of the legendary Club "Kunst und Technik". Then, years later, a new establishment was opened at the very same site, an establishment that soon became a hip meeting place, an establishment that started a boom. In 2002, a resourceful gastronomer discovered the empty lot next to Monbijou Park, had tons of sand shipped there, put up deckchairs and a few artificial palm trees and opened "Strandbar Mitte" (Beach Bar Mitte). Surprisingly, every evening hundreds of guests came here. Ever since, these sandy places have not only attracted guests along the Spree.
All over Europe, more and more beach bars were opened, and even U.S. newspapers found this Berlin phenomenon worthy of an article.
Berlin now has more than one dozen beach bars. In 2003, the "Europabar am Oststrand", hidden away behind "East Side Gallery", opened at the "Oststrand". Multinational "Völkerball" tournaments, concerts and other club events take place there on a regular basis (Völkerball is a popular German ball game for two teams).
One particular beach bar highlight is the "Bundespressestrand", which moved to the opposite bank of the River Spree in 2005, and now spans an impressive 4,000 sqm. The sun terrace on the top floor of the distinctive beach pavilion provides guests with a magnificent panoramic view of the new main train station and the government quarter. The smaller Capital Beach also opened in 2005.
More beach bars:
›› www.arena-berlin.de
›› www.cocktailbarzeitlos.de
›› www.kikiblofeld.de
›› www.palmbeach-berlin.com
›› www.schoenwetter-berlin.de
›› www.strandbar-stralau.de
---