Promotion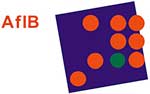 We are the AfIB - the Berlin Academy for International Education with the Albert Einstein Technical Secondary School for Design (Media), Social Services and Business, and we are offering an integrated educational concept that is unique in Europe.
We are Europe's first state-recognized, independently operated technical secondary school with its own flight school, the Leonardo da Vinci Flight Academy. If desired, our students can acquire a pilot's license at a special price, parallel to the 2-year, general advanced technical college certificate (11th and 12th grades). We give our students wings!
Each of our students is at the center of our educational work. We teach in small classes, with block instruction and nearly without class cancellations!