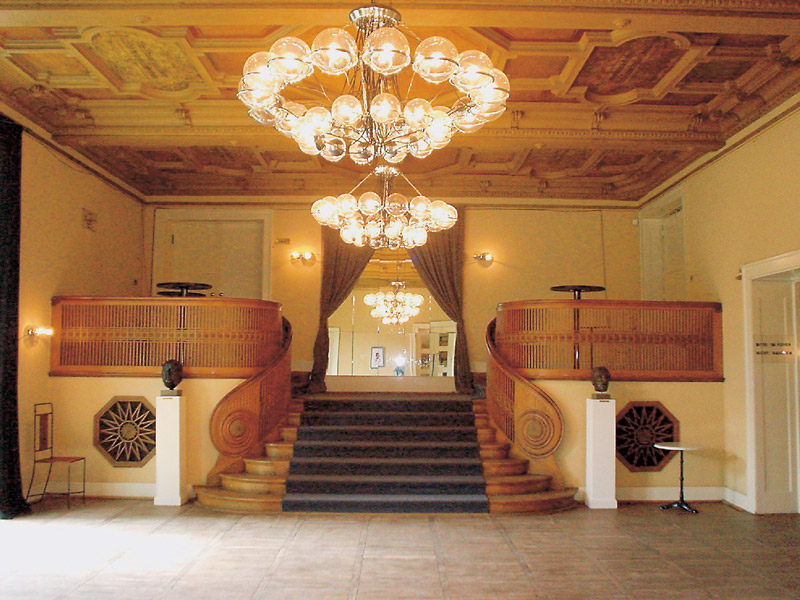 Schlossparktheater
Berlin is Germany's theater capital. The playwrights Haupt­­mann, Ibsen, Strindberg and Brecht became famous here. More than 50 theaters offer culture fans a varied program from aesthetic realism to experimental pop art. Some 28 Berlin theaters are state-funded and the others are in private hands. There are also many fringe theaters and independent theater groups, which usually don't have a fixed venue. The Deutsches Theater was founded in 1883 and has been Berlin's most important theater ever since. Famous theatrical personalities such as Ernst Busch, Max Reinhardt, Gisela May and Bertolt Brecht have shaped this institution. The Berlin Ensemble, founded by Brecht in 1949, has a very good reputation, mainly due to its productions of the dramatist Heiner Müller, who died in 1995.

Claus Peymann, a well known theater director in Germany, has now taken over the Theater am Schiffbauerdamm. Another famous German director, Peter Stein, has won the Schaubühne am Lehniner Platz worldwide fame. Nowadays, directors including Luk Perceval or choreographer Sasha Waltz are redefining contemporary theater. Another crucial element of Berlin's theater scene is the Volksbühne at Rosa-Luxemburg-Platz. Its productions range from the controversial to the highly praised and often make headlines because they are unusual and sometimes rather intense.
Berlin's music theaters include the Admiralspalast, the Revuetheater in the Friedrichstadtpalast and naturally the Staatsoper, Komische Oper and Deutsche Oper. For an elegant combination of dance and music at the highest level, try the Staatsballett (state ballet), which is directed by the internationally-known dancer and choreo­grapher Vladimir Malakhov. The musical scene is just as successful. For example, since 2004, the Blue Man Group with its music, theater and drum shows, has always drawn a full house. Also worth a look are the musicals staged at the Theater des Westens and the Musical Theater am Potsdamer Platz.
---

Overview of Berlin's theater addresses
---
---
Admiralspalast
Ceremonially reopened in August 2006, the Admiralspalast has been restored to its former brilliance and offers the Berlin public a wide potpourri of cultural entertainment. Musicals, concerts and variety shows are staged in three beautiful halls.
›› Mitte, Friedrich Str. 102, Tel. 47 99 74 99
www.admiralspalast.de

Berliner Ensemble
Founded by Bertolt Brecht and Helene Weigel in 1949, this company stages contemporary plays, premieres of plays written in German and modern productions of classics such as Shakespeare, Lessing, Ibsen, Brecht or Beckett. Their home stage is the beautiful Theater am Schiffbauerdamm Neo-Baroque building, erected in 1892.
›› Mitte, Bertolt-Brecht-Platz 1, Tel. 28 40 81 55
www.berliner-ensemble.de

Deutsches Theater
Traditional theater, built in 1850, with a chamber theater added in 1906. Stages classic and contemporary theater literature productions.
›› Mitte, Schumann Str. 13a, Tel. 2 84 41-2 25
www.deutschestheater.de

English Theater Berlin
The main venue for English-language drama in Berlin. Independent productions alternate with guest performances, providing a diverse repertoire, from classics to comedy. Contemporary performances are also featured.
›› Kreuzberg, Fidicin Str. 40, Tel. 6 93 56 92
www.etberlin.de

HAU - Hebbel am Ufer 1-3
Combination of Hebbel-Theater, Theater am Halleschen Ufer and the little Theater am Ufer. Dance, contemporary musicals and avant garde projects.
›› Kreuzberg, HAU 1: Stresemann Str. 29
HAU 2: Hallesches Ufer 32
HAU 3: Tempelhofer Ufer 10
›› Tel. 2 59 00 40, www.hebbel-theater.de

Heimathafen Neukölln
The Heimathafen Neukölln aims to reestablish people's theater with its mixed program of theater, concerts and readings. It's now based in the Saalbau Neukölln.
›› Neukölln, Karl-Marx-Straße 141, Tel. 56 82 13 33
www.heimathafen-neukölln.de

Hexenkessel Hoftheater
Enchanting open-air summer entertainment – since 1994, the Hexenkessel Hoftheater has been transporting its visitors away to the world of Shakespeare or Molière. Performances are held in an amphitheater in Monbijoupark and, as a particular highlight, on the cargo barge MS Marie, which is anchored directly in front of the Museums­insel. See also Märchen­hütte.
›› Mitte, Monbijoupark & Am Kupfergraben, Tel. 24 04 86 50
www.­hexenkesselhoftheater.de

Kleines Theater
This intimate theater with 99 seats stages Berlin premiers of challenging and entertaining works, as well as musical productions. Small but excellent.
›› Friedenau, Südwestkorso 64, Tel. 8 21 20 21
www.kleines-theater.de

Kriminaltheater
Berlin's first thea­ter devoted to crime stories, staging every­thing from Agatha Christie to Edgar Wallace and gory comedies.
›› Friedrichshain, Palisaden Str. 48, Tel. 47 99 74 88
www.kriminaltheater.de

Märchenhütte
In the Märchenhütte (fairy tale hut), which is the indoor winter base of the outdoor Hexenkessel Hoftheater, you'll leave behind the cold, gray city landscape and enter a fantasy world. The chimney fire spreads a warm glow and the actors on the stage transport the audience into the world of Cinderella, the Frog Prince and Rumpelstiltskin.
›› Mitte, Monbijoupark (auf dem Bunkerdach) Monbijoustraße, Tel. 24 04 86 50
www.maerchenhuette.de

Maxim Gorki Theater
Berlin's smallest public theater, located in a neoclassical building, has a wide repertoire from classic to modern drama. There's also a small studio stage and regular readings and panel discussions in the foyer.
›› Mitte, Am Festungsgraben 2, Tel. 20 22 11 15
www.gorki.de

Renaissance Theater
One of Berlin's most beautiful traditional theaters presents contemporary theater and also a lot of guest performances.
›› Charlottenburg, Knesebeck Str. 100, Tel. 3 12 42 02
www.renaissance-theater.de

Schaubühne am Lehniner Platz
Legendary Berlin theater which places a special emphasis on contemporary drama and dance, mostly debut performances.
›› Wilmersdorf, Kurfürstendamm 153, Tel. 89 00 23
www.schaubuehne.de

Schlossparktheater
German comic actor Dieter Hallervorden has led this theater in Berlin's Steglitz district since September 2009. Cozy small theatrical productions are just as at home here as lively comedies. Well-known names such as Ilja Richter, Brigitte Grothum and Katharina Thalbach also appear in select productions. Readings, comedy evenings and concerts enrich the varied program.
›› Steglitz, Schloß Str. 48, Tel. 7 89 56 67
www.schlossparktheater.de

Sophiensaele
Inside the historic walls of a former craft association building, this independent theater has become a venue that supports the most diverse artistic ideas, from theater to dance, performance and music to visual arts. The program is heavily influ­enced by conflicts between art and current social issues.
›› Mitte, Sophien Str. 18, Tel. 2 83 52 66
www.sophiensaele.com

Theater und Komödie am Kurfürstendamm
This theater is famous throughout Germany for top-quality entertainment. Offers classic comedies, farces, shows, crime comedy, musical comedies, often boasts a star cast.
›› Charlottenburg, Kurfürstendamm 206/209, Tel. 88 59 11 88
www.komoedie-berlin.de, www.theater-am-kurfuerstendamm.de

Tribüne
One of Berlin's traditional privately owned theaters. First opened in 1919, it currently focuses on musical drama and high-quality (mostly British) comedy.
›› Charlottenburg, Otto-Suhr-Allee 18, Tel. 3 41 90 01
www.tribuene-berlin.com

Vagantenbühne
Private theater founded in 1949 with discerning and entertaining plays and comedies, modern classics, contemporary plays criticizing political and social realism.
›› Charlottenburg, Kant Str. 12a, Tel. 3 12 45 29
www.vaganten.de

Volksbühne
Successful yet often controversial theater, presenting independent productions and regular special events devoted to theater theory, music, literature and cinema, sometimes at the associated Roter/Grüner Salon.
›› Mitte, Rosa-Luxemburg-Platz/Linien Str. 227, Tel. 24 06 57 77
www.volksbuehne-berlin.de

›› Back


Theater for children

---
Berliner Kindertheater
In winter, the Children's Theater stages performances in the Fontane House. In summer, performances are outside on the open-air stage in Spandau. Well-known fairy tales are performed, such as the Frog Prince, and Cinderella or classics by Astrid Lindgren.
›› Sommerspielstätte, Freilichtbühne an der Zitadelle Spandau, Am Julius­turm
›› Winterspielort, Fontane-Haus Wittenau, Wilhelmsruher Damm 142 c
›› Tel. 6 22 19 31, www.berliner-kindertheater.de

Die Schaubude
Puppet and marionette theater presenting plays for children and adults. Guest performances by German and international artists.
›› Prenzlauer Berg, Greifswalder Str. 81-84, Tel. 4 23 43 14
www.schaubude-berlin.de

Figurentheater Grashüpfer
Plays with marionettes, muppets and traditional hand puppets. Shadow plays and modern object animation. Fireside fairy-tale nights in the courtyard in summer.
›› Treptow, Puschkin­allee 16a (im Treptower Park), Tel. 53 69 51 50
www.theater-grashuepfer.de

Grips Theater
This theater became world famous for its production of Linie 1, a children's musical. Many new productions for children, teenagers and adults. Grips' plays have been re-enacted more than 1,300 times and are translated into 42 different lan­g­ua­ges.
›› Hansaviertel, Altonaer Str. 22, Tel. 39 74 74 77
www.grips-theater.de

Hans Wurst Nachfahren
Theater for children and adults, presenting fairy tales, famous children's stories and contemporary topics, using many kinds of puppetry techniques.
›› Schöneberg, Puppentheater am Winterfeldtplatz, Gleditsch Str. 5
Tel. 2 16 79 25, www.hans-wurst-nachfahren.de

Puppentheater Firlefanz
Puppet theater, founded in 1982, presenting fairy tales for children and puppet operas for adults in a cozy living-room atmosphere.
›› Mitte, Sophien Str. 10, Tel. 2 83 35 60
www.puppentheater-firlefanz.de

Teatro Baraonda
The Baraonda (Italian for turmoil) is a musical theater for children that uses body language and mimicry. It was founded in 1993 by Eduardo Mulone. Performances take place at various locations in Berlin, for example in the Schwartzsche Villa in Steglitz.
›› Kreuzberg, Monumenten Str. 28, Tel. 7 85 46 13
www.baraonda.de

Zaubertheater Igor Jedlin
Europe's only permanent illusionist theater, presenting illusionist tricks and magic for children and adults.
›› Charlottenburg, Roscher Str. 7, Tel. 3 23 37 77
www.zaubertheater.de

›› Back


Satire

---
Admiralspalast
See category stages and theaters
›› Mitte, Friedrich Str. 102, Tel. 47 99 74 99
www.admiralspalast.de

Berliner Brett´l
Satire with music and literature, Berlin tales and popular local hits are presented well here to show audiences how wonderful it is to be a Berliner.
›› Mitte, Friedrich Str. 130, Tel. 68 80 93 00
www.berliner-brettl.de

Berliner Kabarett Anstalt (BKA)
Stand-up satirical comedy and music stage in Kreuzberg. Celebrity guest performances and midnight shows.
›› Kreuzberg, BKA Theater, Mehringdamm 32-34
Tel. 20 22 00 7, www.bka-luftschloss.de

Berliner Kabarett Klimperkasten
This musical literary satire company, which once included such legends as Jürgen von der Lippe and Hans-Werner Olm, has more than 500 titles in its repertoire. Performances take place in Charlottenburg Town Hall cellar. The room depends on the size of the audience.
›› Ratskeller des Rathauses Charlottenburg, Figurensaal
Otto-Suhr-Allee 102, Tel. 7 85 64 77
www.kabarett-klimperkasten.de

Comedy Club Kookaburra
If you want to laugh until you cry in a pleasant atmosphere, this is the place for you. Renowned comedians, changing weekly. English Comedy Night on the first Tuesday in every month, with Open Stage for new talents every Sunday.
›› Prenz­lauer Berg, Schönhauser Allee 184, Tel. 48 62 31 86
www.comedyclub.de

Die Stachelschweine
More than 50 years of satirical comedy. Famous for pointed comments and a cast that clearly enjoys its work.
›› Charlottenburg, Europa-Center 9-12, Tauentzien Str.
Tel. 2 61 47 95, www.die-stachelschweine.de

Die Wühlmäuse
Famous all over Germany because the founder is Dieter Hallervorden, a well-known German comedian, who had several very successful TV shows and some­times performs live on stage at this traditional theater. Many artists appearing here are established TV and radio stars, for example Mathias Richling, Willy Astor, Dieter Nuhr.
›› Westend, Pommernallee 2-4, Tel. 30 67 30 11
www.wuehlmaeuse.de

Distel
Berlin's stand-up comedy theater in Admiralspalast on Bahnhof Friedrichstraße has presented political satire at its best for more than 50 years.
›› Mitte, Friedrich Str. 101, Tel. 2 04 47 04
www.distel-berlin.de

Kneifzange
Satirical theater, located in the heart of Berlin's political district, many celebrity guest performances.
›› Mitte, Friedrich Str. 176-179, Tel. 47 99 74 80
www.kneifzange-berlin.de

Mehringhof-Theater
This theater entertains a maximum of 250 guests five nights a week with professional, engaging, and mainly political satire by different artists.
›› Kreuzberg, Gneisenau Str. 2a, Tel. 6 91 50 99
www.mehringhoftheater.de

Quatsch Comedy Club
The Quatsch Comedy Club is a German TV hit. Five comedians perform live on stage in the Club Mix from Thursday to Sunday. The show is presented by Thomas Hermanns and other comedians. Top comedians also appear frequently with their solo programs.
›› Mitte, Friedrich Str. 107, Tel. 0 18 05/25 55 65
www.quatschcomedyclub.de

›› Back


Opera, concerts & dance
---
Berliner Philharmonie
Large auditorium with 2,440 seats, performing about 270 concerts a year. In the chamber music hall, with its 1,180 seats, sections of the orchestra stage about 240 concerts a year.
›› Tiergarten, Herbert-von-Karajan-Str. 1, Tel. 2 54 88-999
www.berliner-philharmoniker.de

Deutsche Oper Berlin
Don't be put off by the shabby exterior. Inside, you can watch beautiful opera and ballet productions. In-house orchestra, children's musical theater as well as regular tours through the backstage and workshops.
›› Charlottenburg, Bismarck Str. 35, Tel. 34 38 43 43
www.deutscheoperberlin.de

Komische Oper
This is a relatively young opera company, but it's already world-famous. The wide repertoire covers operas, operettas, musical theater, children's operas and musical fairy tales.
›› Mitte, Behren Str. 55-57, Tel. 47 99 74 00
www.komische-oper-berlin.de

Konzerthaus
Home of the Berlin Concert Orchestra and a masterpiece of German classical architecture. It houses four auditoriums: the large and small halls, the Werner Otto auditorium and the music club.
›› Mitte, Gendarmenmarkt, Tel. 20 30 90 - 2101
www.konzerthaus.de

Neuköllner Oper
This music theater is popular far beyond Berlin, with up to 11 new productions a year, from modern to Medieval classics, and opera to musicals.
›› Neukölln, Karl-Marx-Str. 131-133, Tel. 68 89 07-0
www.neukoellneroper.de

Schiller Theater
The Berlin State Opera is using the Schiller Theater in western Berlin as a temporary home for about three years since October 2010. The Schiller Theater has had an expensive remodelling including technical refinements to make it a suitable venue for operatic productions by the city's oldest opera company.
›› Charlottenburg, Bismarck Str. 110
www.staatsoper-berlin.de

Staatsoper Unter den Linden
This traditional state opera company on the prestigious Unter den Linden street was first opened in 1741, offering classical opera, ballet, symphony concerts and chamber music. All of the State Opera's performances have been moved to the Schiller Theater on Charlottenburg because of a major renovation lasting until the 2013/2014 season.
›› Mitte, Unter den Linden 7, Tel. 20 35 45 55
www.staatsoper-berlin.de

›› Back


Varieté
---
Bar jeder Vernunft
This theater, which is in a beauti­ful Art Nouveau tent decorated with mirrors, is famous for satire. It presents shows, stand-up comedy, satire nights, literature readings with many regular performers. 250 seats, restaurant.
›› Wilmersdorf, Schaper Str. 24, Tel. 8 83 15 82
www.bar-jeder-vernunft.de

Chamäleon
The Chamäleon Theater in the Hackesche Höfe has been an institution for innovative entertainment for many years. Artistic shows that can hold their own against large international productions are developed and staged here.
›› Mitte, Rosenthaler Str. 40/41 (Hackesche Höfe)
Tel. 40 00 59 30
www.chamaeleonberlin.de

Estrel Festival Center
Stars in Concert is Berlin's most successful show. You can see live stars such as Madonna, Tina Turner or Prince, or at least people who look like them. Every night since 1997, the world's best star lookalikes have appeared on stage, giving fascinating authentic performances. Accompanied by first-class musicians and sexy dancers, the lookalikes perform their homages to show business legends. Also worth seeing are special shows based on groups such as ABBA, the Beatles, Elvis Presley, die Blues Brothers and Buddy Holly.
›› Neukölln, Sonnenallee 225, Ticket-Hotline: 68 31 68 31
www.estrel.de

Scheinbar Varieté
The smallest variety theater in Germany, with only 60 seats, offers a colorful entertainment program, from open stage variety shows to comedy and improvisation theater.
›› Schöneberg, Monumenten Str. 9, Tel. 7 84 55 39
www.scheinbar.de

Tipi - das Zelt
Tent with stage at the Viermaster, near the chancellory, offering chansons, satire, variety shows, dance, acrobats and musical comedy. Guests can dine in style at the Tipi before a show or get in the mood for the performance at the beer garden with view of the Chancellor's office.
›› Tiergarten, Große Querallee, Tel. 01 80/ 3 27 93 58
www.tipi-das-zelt.de

Wintergarten Varieté
The beautiful audito­r­ium with 500 seats is decorated with fine wood, brass, deep red velvet and mirrors. Presents international stars, jugglers, trapeze acrobats, dancers, comedians, look-alikes, puppeteers, illusionists and clowns, always accompanied by the Wintergarten Orchestra. Food and drinks served in the stalls.
›› Tiergarten, Potsdamer Str. 96, Tel. 25 00 88 88
www.wintergarten-variete.de

Zebrano Theater
The musical, literary program of the Zebrano Theater offers a mixture of professional small theatre, satire and songs. In the 60-seat room, you can also hear literature from poetry slam to serious reading. There's also a program for children.
›› Friedrichshain, Sonntag Str. 8, Tel. 29 04 94 11
www.zebrano-theater.de

›› Back


Cultural centers
---
Brotfabrik
A huge former bread factory now offers four different attractions: a small independent movie theater, a stage for free theater groups, a gallery for young, contemporary photo art and a bar with a room for readings.
›› Weißensee, Prenzlauer Promenade 3, Caligariplatz
Tel. 47 14 00-1, -2, www.brotfabrikberlin.de

Kulturbrauerei
The 25,000 sq m site of the former Schultheiss Brewery houses this unique variety of cultural attractions with over 20 venues. Offerings include concerts, exhibitions, readings, theater performances, culture for children, festivals and parties, gastronomy, movies and, in summer, the Open Air Klassik Sommer, plus the interesting historical industrial architecture. There are up to 20,000 visitors on normal weekends.
›› Prenzlauer Berg, Schönhauser Allee 36, Tel. 44 31 51-52
www.kulturbrauerei-berlin.de

Radialsystem V
Independently financed stage for contemporary dance, music, fine art and new media, with the old pump works on the Mediaspree grounds serving as an impressive backdrop.
›› Friedrichshain, Holzmarkt Str. 33, Tel. 288 788 588
www.radialsystem.de

ufaFabrik Varieté Salon
International cultural center in the former UFA film production area. Comedy and variety show history has been written here since 1979. Internationally famous stars and hopeful up-and-comers attract culture fans to the historic theater halls and, in summer, to Berlin's only open-air variety show. The stage program alternates between theater, world music, cabaret, variety shows, dancing, comedy, children's shows and international festivals. Refreshingly unconventional!
›› Tempelhof, Viktoria Str. 10-18, Tel. 7 55 03-0
www.ufafabrik.de

›› Back