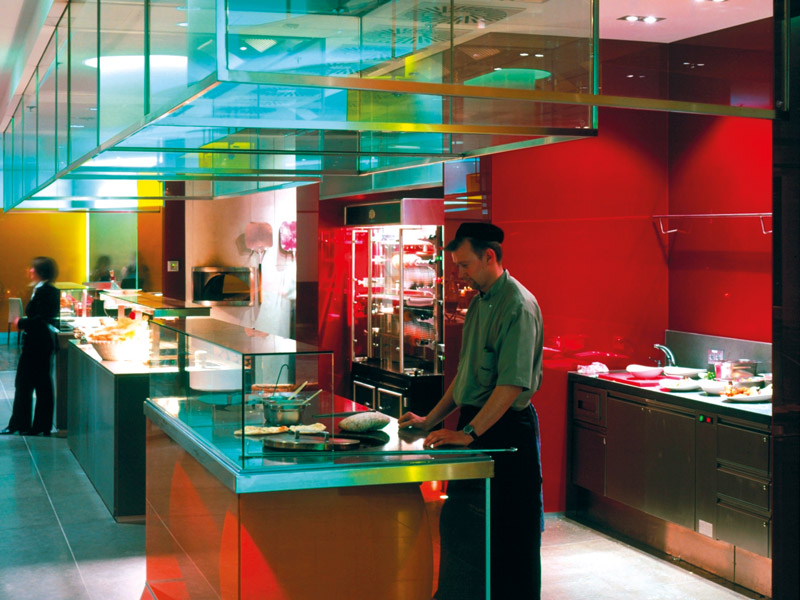 Heat
Whether you crave Japanese Yakitori, pasta al tartufo or just the famous Berliner Currywurst (sausage with curry sauce) – Berlin has as many restaurants as it has ethnic groups. Gourmets looking for lots of delicious dishes to delight their palates will find their favorite places among the 6,000 or so restaurants in the city. The cost of eating out is just as impressive as the number and diversity of the city's food establishments. In Berlin, prices are in fact lower than in any other German city.
During lunchtime, many places have attractive business lunch deals, offering a chance during the lunch break to really spoil your taste buds in a gourmet temple, such as Tim Raue's new restaurant, which carries his name and will delight lovers of exotic delicacies.
Besides haute cuisine establishments, there are plenty of interesting places to discover – such as the imposing Volt in the Umspann­werk Kreuzberg, which serves modern German cuisine, or Probier Mahl, where you can try out different tasty appetizers.

Nothing is easier than finding the perfect restaurant for any kind of occasion in this city. But you'll find that the enormous choice of restaurants will make picking the right place a difficult task. In Berlin, you're spoilt for choice. Bon appétit!
---