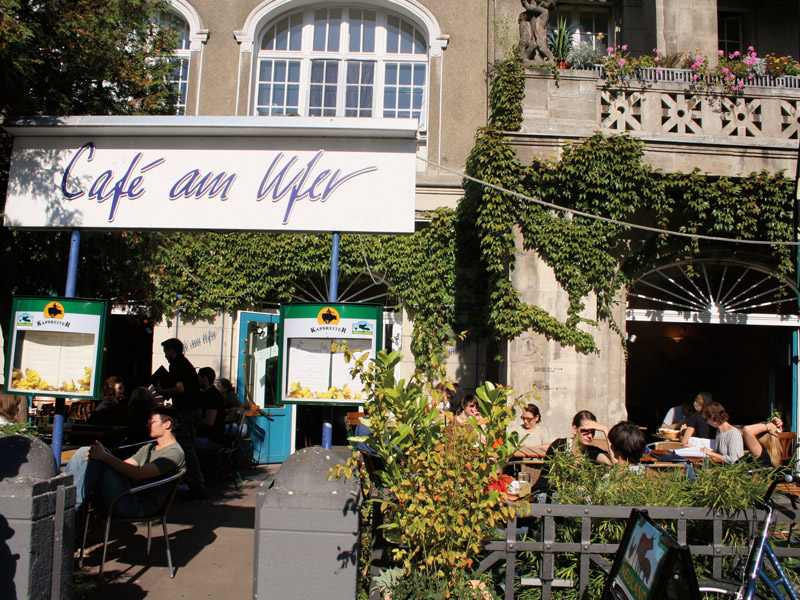 Cafe am Ufer
Berlin is many things – except boring. That's equally valid for bars and clubs, both of which are constantly changing. Cozy corner pubs are found next to bizarre new trendy bars that either disappear as quickly as they open or become so 'in' that the bouncers won't let you through the door next time you visit because the owners want to make their places a little bit more special to get one up on their rivals. Even the names of many bars, such as The Legend of Paula and Ben or Hüftengold (Golden Hips), are so creative and weird that you want to go in just to see what's behind the name. But there are places that have remained a distinctive part of the club scene for years, such as the Paris Bar or the world-famous Tresor techno club.

The special attraction of Berlin's nightlife is its diversity and the fact that it isn't limited to one part of town. Usually several bars are found near each other in particular districts, which Berliners refer to as a Kiez. Each Kiez has its own character and its own bar scene because Berliners often go out only in their own neighborhood (see Kiez overview, right). The greatest bar and club density can be found in Mitte, Charlottenburg, Prenzlauer Berg, Kreuzberg and Friedrichshain. In Mitte, Tiergarten and Charlottenburg – the city's tourist center – there are mainly chic cocktail lounges and bar-restaurants such as the legendary Harry's New York Bar or the Newton Bar on Gendarmenmarkt. Tourists, celebrities and the well-heeled enjoy getting together in the Hackesche Höfe in Oranienbur­ger Straße (Mitte) or on Savigny-Platz in Charlottenburg.

It's just the opposite in Kreuzberg. Here, a young, alternative crowd meets, and they now also like to step across the district's border to hang out in the many pubs and bars in the new hip area of Reuterkiez in the north of Neukölln. The increasingly popular area around Simon-Dach-Straße in the trendy Friedrichshain district definitely has something for everyone. Last but not least is Prenz­lauer Berg, which is a true bar lover's paradise where a colorful mixed crowd in the mood for partying gathers every evening. The best idea is to just try out all the areas. But when doing that, don't forget – if you can't decide where to go, just decide by the name.