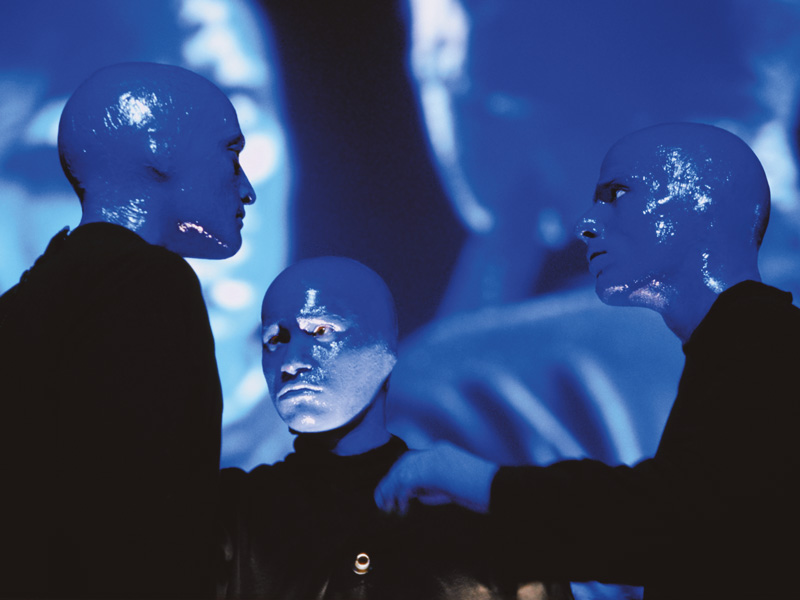 Bluemax, Blue Man Group
Charismatic figures of the night, menacing flashing teeth, and blood - in December 2006, Roman Polanski's musical "Dance of the Vampires" cele-brated its premiere in the Theater des Westens. The musical, which is a parody of the vampire genre, tells the story of vampire hunter Professor Abronsius and his young assistant Alfred, who meet the vampire Count von Krolock in a village in Transylvania. Rocky, sentimental ballads by Jim Steinman, furious dance scenes and – last but not least – the snappy text from Michael Kunze make the musical a scary and incredible delight. A complete contrast to this is the Disney musical "Beauty and the Beast", which can be seen from March 2007 in the Musical Thea­ter on Potsdamer Platz. This is the romantic love story of the beautiful Belle and a prince who was turned into an ugly beast by a witch. Only the love of another person can save him.
Worldwide, over 25 million people have seen the musical. Now Berliners can also enjoy the sensational scenery, fantastic costumes and enchanting music. The "Blue Man Group", which has been appearing at the Theater am Potsdamer Platz since 2004, is moving on February 1, 2007. The former IMAX theater directly opposite their former venue has been converted especially for the blue men to the new BLUEMAX venue with 600 seats.

www.stageholding.de
---
You can find a list of all current plays, plus many other events, ranging from plays, exhibtions, live music, recreational, sporting events to current movies and more in our calendar of events.
Musical addresses in Berlin
---
Admiralspalast
See category stages and theaters
›› Mitte, Friedrich Str. 102, Tel. 47 99 74 99
www.admiralspalast.de

Bluemax
Since February 2007, the spectacular Blue Man Group musical has been performed in the former IMAX theater near Potsdamer Platz, which was renovated especially for this purpose. Up to 600 spectators watch a colorful show which has no words, but makes up for it with music and performances in which the audience can actually play a part.
›› Tiergarten, Marlene-Dietrich-Platz 4, Ticket-Hotline: 0 18 05/ 44 44
www.stageholding.de

Friedrichstadtpalast
Europe's biggest show palace features state-of-the-art technical equipment, 1,895 seats, spectacular shows, first-class revues, musicals and dance performances. Since 2009, it's also been the venue for the Berlin International Film Festival.
›› Mitte, Friedrich Str. 107, Tel. 23 26 23 26
www.show-palace.eu

Musical-Theater am Potsdamer Platz
Large musical theater at Potsdamer Platz run by the Stage Entertainment GmbH. There are 1,800 seats that provide the audience with an optimal view of world-famous musical productions, such as Udo Lindenberg's Hinterm Horizont, which had a glittering premiere here in January 2011.
›› Tiergarten, Marlene-Dietrich-Platz 1, Tel. 25 92 90, Ticket-Hotline: 0 18 05/44 44
www.stage-entertainment.de

Theater des Westens
Musical theater operated by the Stage Entertainment GmbH. This is where the big shows take place and where stars celebrate world premieres. This impressive, 1,400-seat theater is worth a visit even if there isn't a spectacular show.
›› Charlottenburg, Kantstr. 12, Tel. 31 90 30, Ticket-Hotline: 0 18 05/ 44 44
www.stage-entertainment.de
---

For more information get the NEW IN THE CITY magazine