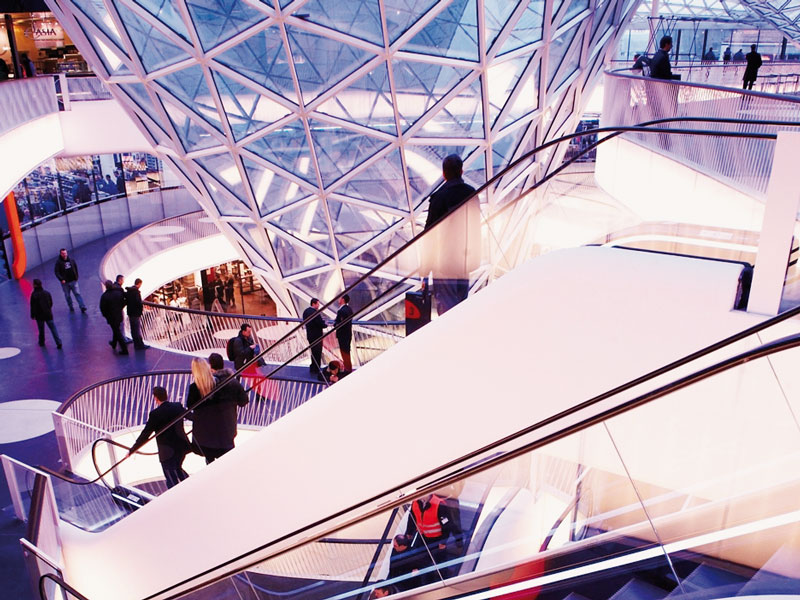 MyZeil
Shopping in Frankfurt is, like the city itself, characterized by world-class flair on one hand and regional diversity on the other. Frankfurt boasts the Zeil, Germany´s highest-grossing shopping street, which attracts about half a million customers per day.
The city´s shopping district has all the big department stores such as Galeria Kaufhof, Peek & Cloppenburg and well-known fashion chains such as Zara and H&M.
But it also has more to offer, as is demonstrated by the Palais district´s new MyZeil shopping paradise. MyZeil is impressive because it´s housed in a spectacular steel and glas building and because it stocks clothes from international labels that were previously not sold in Frankfurt.
The well-known Zeilgalerie is undergoing major renovation work, which will last until 2011.
Part of its facade will be turnded into a huge screen that will display moving arty images.
Until the project´s completion, if you´re looking for exclusive shops and boutiques it´s best to head a little west toward Alte Oper where Armani, Chanel and Tiffany´s on Goethestraße are ready to serve well-heeled customers.

There are more top-notch fashion and shoe stores near the Stock Exchange on the street named after the poet Goethe´s contemporary, the Schillerstraße.
Once you´ve bought up the city center´s shopping delights, you can still easily continue spending in other districts of Frankfurt.
One possibility is on the other side of the Main where a few streets in the district of Sachsenhausen have made a name for themselves with a special selection and a unique atmosphere.
Sachsenhausen´s shopping strip is the Schweizer Straße, with many quaint little shops for browsing.
The Brückenstraße has also developed into a mini fashion mecca for individuals, who see themselves as an alternative to the large mainstream chains.
For example Jutta Haag of "Ich war ein Dirndl" (I used to be a Dirndl) creates unique and fun dresses and skirts out of old clothes and vintage fabrics.

She also sells clothes imprinted with exclusively Frankfurt-themed motifs such as a cider glass or the Henninger Tower.
Another, equally popular – and at three km also Frankfurt´s longest – shopping street is the Berger Straße, which passes through Nordend and Bornheim, and has been fondly rechristened the Bernemer Zeil by the locals. The portion of Berger Straße in Nordend is particularly known for unusual little shops that tempt adventurous shoppers, for example the curious Sockenkiste with its trademark row of mannequin legs above the entrance – not to mention the many quaint trendy cafés in which you can relax delightfully after your shopping spree.