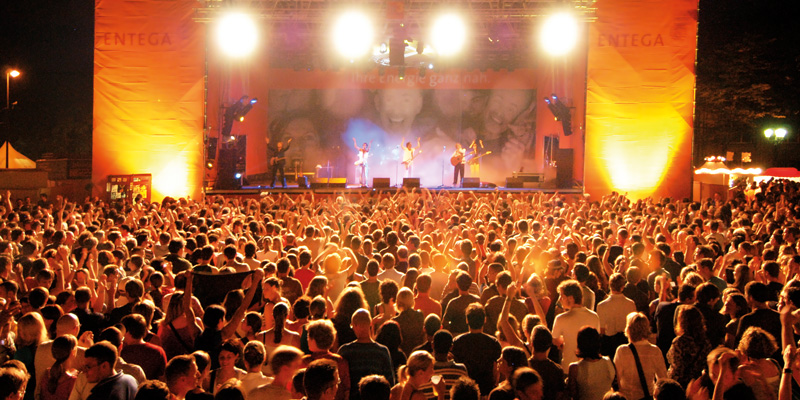 Schlossgrabenfest
More than 30 years ago, the era that revolutionized Frankfurt´s nightlife began when the legendary Studio 54 opened its doors in New York on April 26, 1977. Less than a year later, the city´s first disco based on the American model, the Dorian Gray, opened in, of all places, an underground hall at the Frankfurt Airport. And what worked in Manhattan would be just as successful in "Mainhattan."
Long before Saturday Night Fever, an attitude was born that has remained until today in Frankfurt´s club scene.
What´s more, the Main metropolis´s pioneering scene was the hotbed of a movement that revolutionized the club landscape in the 1990s, the decade of electronic music.
Even the term "techno" is Frankfurt´s very own invention.
As early as the 1980s, albums with electronic music were classified under "techno" in a small record store near Frankfurt´s main train station.
Who would have thought then that the avant-garde of the scene would have its home here in the future?
Frankfurt DJ Sven Väth is considered the founding father of the techno scene and he can still be heard at the Cocoon, one of the city´s top clubs.
There are other facets to Frankfurt´s nightlife that couldn´t be more lively and colorful.
Big trendy clubs such as the King Kamehameha or Cooky´s original basement club compete with rock clubs such as the Batschkapp to attract partygoers who are spoiled for choice.
The Nu Soul, which opened in 2009, is another top location to further enrich the city´s nightlife.

The crowd here dances to non-mainstream "Music With Attitude" –the club´s policy is to play hip urban sounds with an international flavor.
One thing´s for sure, there´s always something new happening in Frankfurt. As Sven Väth says: "The Message is fun!" Enjoy Frankfurt by night!