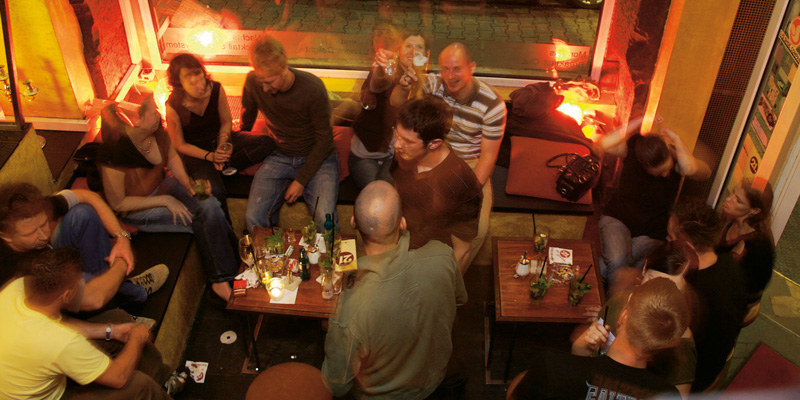 21. Jahrhundert
Sunrise over the Main metropolis. The first Frankfurt citizens are up and about and wait for a cappuccino or a latte macchiato in Wacker´s, where the aromatic coffee is freshly brewed as fast as the wind and served with a delectable aroma. The city center café is one of the first to offer good coffee so early in the morning and more than a thousand people visit the cult little coffee house every day. As the first commuters arrive in the city, other cafés begin opening. In Sachsenhausen, the owners in the Liebesdienste (labor of love) hairdresser café switch on their coffee machine at around 10 o´clock. Naturally, a lot of love goes into the brew here, just as in the Walden coffee house, which has become a firm favorite with its fancy pastel-colored decor and emphasis on sweet things.
Later in the morning, the remaining cafés in the city start to fill up, including cult neighborhood locations such as the Café Kante in Bornheim, whose cute retrostyled serving counter creates a pleasant atmosphere allowing customers to settle back and enjoy coffee and cakes.
Another popular place is the Metropol behind the cathedral.

When sunlight floods its large room, the café is one of the city´s most beautiful places.
You can have a good, laid-back breakfast nearby in Moloko – a cheerful location for late risers.
In the early afternoon, grandmothers chat with their grandchildren at wonderfully nostalgic places such as Café Liebfrauenberg or Mozart. Both are in the middle of the city and are decorated with magnificent chandeliers.
At sunset, the clientele in the café bars gradually starts to change.
In Fiftyfour on the famous Fressgass (restaurant row), the lights are dimmed, which is often a good excuse to order the first alcoholic drinks.
The drinks flow freely in places such as the new French-inspired Le Bar in the city center amid fancy decorations and sinful lighting.

Later live bands sound the start of Frankfurt´s nightlife scene. In the Sansibar you can listen to funk, there´s hard rock in the Spritzehaus in the middle of Sachsenhausen´s Ebbelwoi quarter.
Often, Frankfurt bar hoppers end the nights in late-opening places such as the Pik-Dame near the main train station, while the first early risers are again waiting for their cappuccino outside the Café Wacker´s.