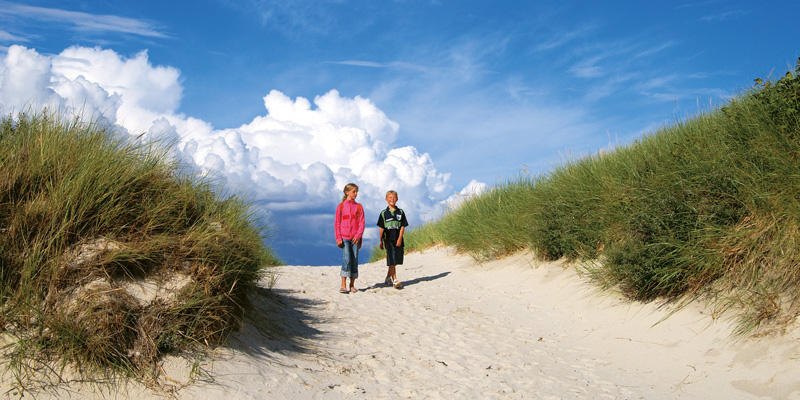 Helgoland
If you live in Hamburg, you don´t necessarily need to leave the city to travel into the countryside or take a trip to a lake. Water, forests and public parks make up a total of 22 percent of the city and offer many possibilities for rest, relaxation, play and sport. The city park, with its lake, the green area Planten un Blomen, Hagenbeck zoo, the recreation areas around the outer Alster, the miles of cycling and jogging tracks along the canals and the Alsterlauf or the extensive forests in the immediate vicinity, all make Hamburg a city for lovers of nature and adventure.
And as if there were not already enough on offer in the city, beyond the city limits there are more fantastic destinations to be found in every direction. To the north, the state of Schleswig-Holstein, known as 'the land between the seas,' borders on Hamburg.
Here the North Sea´s tidal flats were declared a UNESCO world natural heritage site in 2009, so you shouldn´t miss out on a barefoot stroll on the sands, nor on a visit to the many romantic islands such as Sylt and Amrum. On the coast opposite the North Sea, holiday makers flock to the Baltic Sea with its wonderful white sandy beaches between Travemünde and Flensburg.

To the south and southwest of Hamburg, another vacation paradise opens up in the state of Niedersachsen. The Lüneburger Heath between Hamburg, Braunschweig and Bremen entices cyclists and walkers onto its extensive routes. It also contains a wide range of gardens, wild parks and unique zoos such as the Walsrode Bird Park or the Serengeti-Park. And for any day-trippers who need a little action or entertainment after so much nature, Hamburg itself and the surrounding region offer numerous theme parks and attractions for all the family. These include the Miniature Wonderland, the Hansapark in Sierksdorf on the Baltic Sea, or the Heidepark Soltau.