Around the bars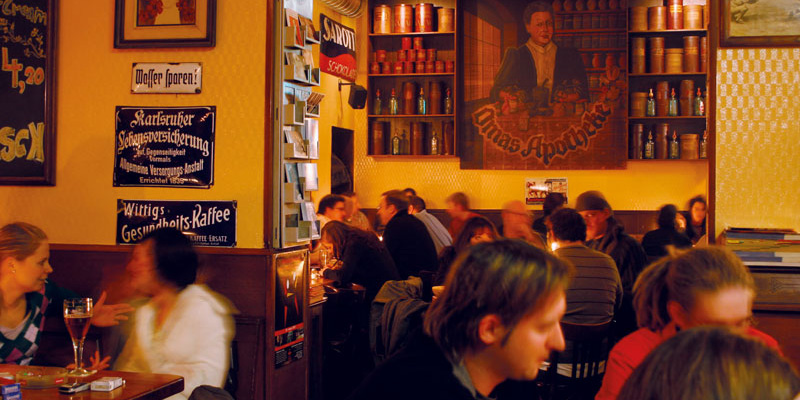 Omas Apotheke
Bar-hopping through Hamburg can be a real adventure. Behind some doors you can expect the unexpected. This is particularly the case for the Reeperbahn, in the heart of St. Pauli. The Reeperbahn and the neighboring parallel and intersecting streets form Hamburg´s famous red-light district, the city´s most popular place for a night out. Here you´ll find establishments such as the famous Dollhaus in the Große Freiheit, and also – typical for the city – dingy harbor dives where you can still meet real Hamburg originals who all sway rhythmically together to the tunes of old sailor´s songs.
Naturally there are also countless in-clubs, small, hidden bars and tourist traps such as the bars and tourist traps such as the bars and Irish pubs on Hans-Albers-Platz, where things are always happening, especially on the weekend. Nearby, you can catch your breath on Hein-Köllisch-Platz, which is a comfortable oasis in contrast to the hyperactive happenings in the Kiez. If you place more value on style, take a look at Yakshi´s Bar in the East Hotel. This is no dive, but instead a designer bar that´s well worth a look and shows you that the Kiez is not all seedy.

In Hamburg, the second largest bar district is the Schanzenviertel (two U-Bahn stations north of the Reeperbahn). Students and creative people go out around Schulterblatt Street to slouch on the threadbare couches of the Sofabar or converse in the hip Saal 2. It´s similarly relaxing in Altona and Ottensen, where charming cafés alternate with non-mainstream pubs and trendy bars. These two districts show their more elegant sides on the Elbe waterside – in the cocktail bars on the Altonaer Fischmarkt, such as the Elbrausch Lounge, the spectacular Bar SáVánh or in the classy clubrestaurant Au Quai.

And the St. Georg district shouldn´t be scoffed at. A night out on its Lange Reihe really is a lot of fun. To find places to go in Hamburg that are elegant, easygoing, sophisticated, inexpensive, and above all where you can have one over the eight, read on.