Great entertainment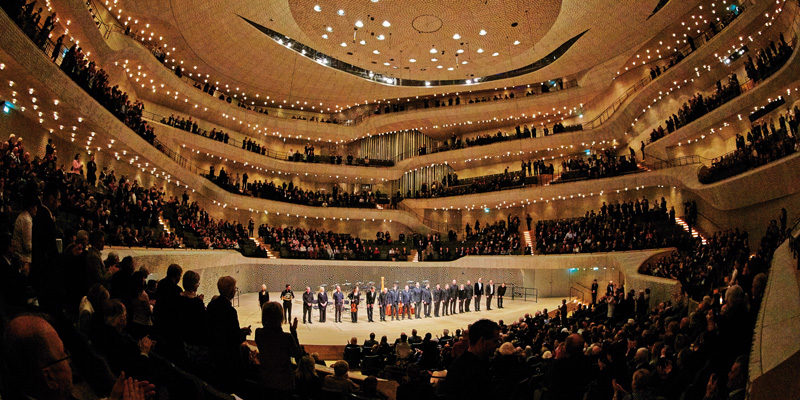 Elbphilharmonie, Großer Saal, Britten Sinfonia, Foto: Claudia Höhne
Great theaters and orchestras, spectacular musical productions, experimental dance performances and top-notch ballet, as well as guest performances by international music stars, are all evidence of Hamburg´s rich cultural life. There are more than 40 theaters, an equal number of museums, more than 160 galleries and three public orchestras, plus open-air concerts and theater performances, such as the Hamburger Jedermann (Hamburg Everyman), staged every summer in the Speicherstadt giving the Salzburg Festival a run for its money. Hamburg´s theaters have a great reputation internationally.

Hamburg´s oldest theater, the Thalia Theater, under the former Wiener Burgtheater´s Joachim Lux´s new leadership, focuses on works by new directors who also embrace classic plays.
Rich in tradition and controversy are the productions of the Schauspielhaus, which is more than 100 years old and currently directed by Friedrich Schirmer.
Both the Thalia and the Schauspielhaus have several times been awarded Theater of the Year within German-speaking countries.

Other stages show how colorful, and at times extravagant and strange, Hamburg´s cultural scene can be.
Every year, popular artists perform here.
For example, Kampnagel, a former factory in Hamburg´s working class district Barmbek, is now an international center for contemporary visual arts and is especially well-known for its avant-garde dance theater performances.

You might also want to check out the repertoires of the Ernst Deutsch Theater, the Altonaer Theater, the Imperial Theaters (which focuses on crime stories), as well as the Kammerspiele and the Komödie Winterhuder Fährhaus.
The Ohnsorg-Theater, Germany´s most popular Low German theater, is a Hanseatic specialty.

Regular TV broadcasts of the theater´s productions, starring famous actors such as Heidi Kabel and Henry Vahl, have made this theater famous throughout Germany.
The crazy revues and music shows at Schmidts Tivoli and Schmidt Theater at Spielbudenplatz in St. Pauli are equally popular.
The Pulverfass (Powder Keg) also is a world-class cabaret theater with its drag show starring international artists who stage first-class entertainment daily and also know how to shock the audience occasionally.