All kinds of hotels in Hamburg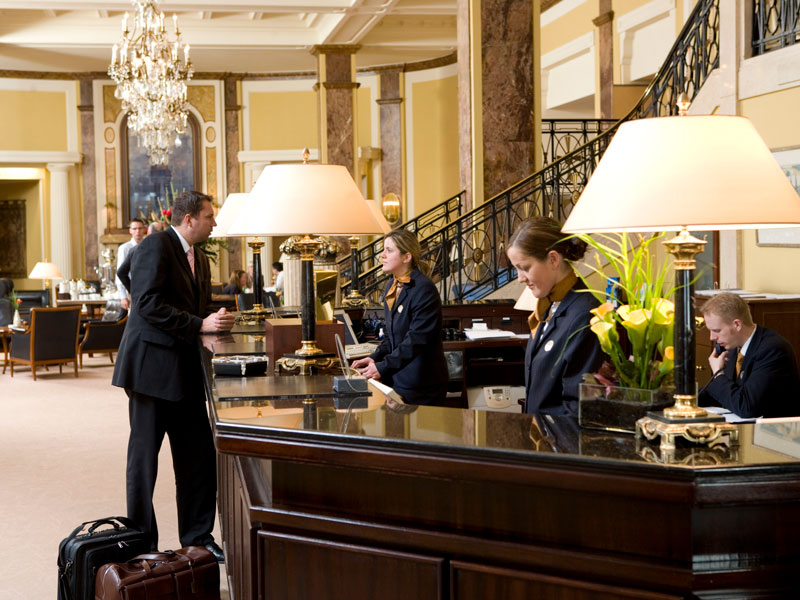 Hotel Atlantic Kempinski
Hamburg has a wide choice of overnight possibilities, with over 54,000 guest beds in more than 330 types of accommodation in every category. Whether you want a bed in a youth hostel, aguest house or a luxury suite in a prestigious hotel, the city can meet almost every wish.
Hamburg is one of Europe's most-visited cities and in 2017 it achieved a visitor record once again with 13.8 million overnight stays, up 3.7 percent from the year before.
New hotels open every year to accommodate this steady stream of visitors. Since the end of 2016 the four-star Westin Hamburg Hotel in der Elbphilharmonie has enlarged the selection and the luxury Grandhotel The Fontenay on the Alster opened in the summer of 2017. By contrast the long-established and well-known Hamburg hotels are the Fairmont Hotel Vier Jahreszeiten, which has resided in a beautiful location on Binnenalster (Inner Alster Lake) since 1897, as well as the 200-year-old Louis C. Jakob hotel on the Elbchaussee boulevard.
The newest member of the elite club of Hamburg hotels that are 100 years old or even older is the Atlantic Kempinski, which celebrated its centenary in 2009. In addition, Hamburg has several theme hotels, such as the Hanseatin women's hotel, the children's hotel Bengel & Engel (English: rascals and angels) and the Lindner Park-Hotel Hagenbeck next to the zoo which gives guests a feeling of being on safari with its African-style rooms. And, as you would expect in a port city, you can also overnight maritime atmosphere in Hamburg in the museum ship Cap San Diego, which offers 1950s-style cabins.
If you prefer to prepare your own meals and plan a longer stay without spending a fortune, consider looking for a suitable apartment hotel. You can move straight away into a fully furnished and equipped apartment, with a kitchen, Internet access and separate work area, without stress and without the need for a furniture truck. The price per night is usually significantly reduced if you stay for a minimum of four weeks.
Apartment hotels – ideal for longer stays in Hamburg
If you want to take your time looking for a new home or, like many business travelers, only plan to stay in Hamburg for a couple of months without rent­ing an apartment indefinitely, one of the city's apartment hotels is a good choice. Here you can rent a fully furnished apartment – no moving trucks, no stress! The apartments come with a complete kitchen, technical appliances, WiFi and a separate office. The price per night is much lower if you stay for a minimum period of four weeks.
There are currently many names for the apartment concept, which comes from America. Whether boarding house, serviced apartments, apartment hotel or residential apartments – all these terms describe a hotel designed for long-term stays. Reasonable prices, flexible rent­al periods and rooms with a home-like atmosphere distinguish these apartment hotels from standard hotels. In an apartment hotel, besides standard hotel offerings such as reception, breakfast, or fitness rooms, you can find services and equipment more suited to a long-term stay, such as a laundromat, mailboxes, shopping services and much more, depending upon the provider.
Hamburg's apartment hotels for long stays include Hanse Clipper Haus and Citadines Michel Hamburg, both centrally located, or the modern and spacious apartello, opened in 2016 in the leafy suburb of Alsterdorf.
For more apartment hotels in Hamburg, see: Appartement-Hotels in Hamburg.