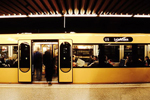 Rebuilding the U5 underground line
Berlin's public transport company, the Berliner Verkehrs­gesellschaft (BVG), started the most difficult and most expensive project in its history in the autumn of 2010 – a € 433 million scheme to fill the 2.2-km gap in the U5 underground train line between Brandenburger Tor station, currently the end of the U55 line, which is nicknamed Kanzlerlinie (Chancellor Line) because it passes through the government quarter, and Ale­xanderplatz.
The project should be completed by 2017 and when it opens, the new stretch will carry up to 155,000 passengers a day including an estimated 40,000 Berlin residents who will be able to leave their cars at home and commute by train into the city center. The new stretch has been planned for 20 years and it will give Berlin three new U-Bahn stations called Berliner Rathaus, Museumsinsel and the Unter den Linden station, which replaces the Französische Straße stop on the U6 line. All three stations have been designed by well-known architects because of their important locations in the middle of the city. U6 passengers especially will experience the effects of the building work because train traffic between the city center and Friedrichstraße will be stopped in 2012 for safety reasons, a measure thought even more necessary after Cologne's state archives collapsed during work on an underground line.