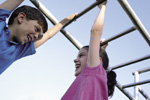 New opening in August 2018. King's College Frankfurt is the only school to offer the English National Curriculum in the Rhein-Main area. The school forms part of King's Group, a highly successful educational organisation which has provided children and young people with a rigorous and broad British education in an international setting since 1969. The group has grown now to a total of 10 schools in UK, Spain, Germany, Latvia and Panama, with more than 4,300 students worldwide.
For nearly 50 years, pupils from King's College students have gone on to continue their studies at some of the world's most prestigious universities, including those in Europe and North America.
King's College Frankfurt is located in northern Frankfurt in the residential town of Friedrichsdorf, approximately 20 kilometres from the city centre. The school is designed to hold approximately 500 pupils and will eventually cater for children from the age of 2 years old (Pre-Nursery), through to 18 years old (Year 13). Due to its recent opening in August 2018, the school currently offers places to children between the ages of 2 and 10 years old. As these pupils progress through their academic journey, the school will expand to cater for pupils up to 18 years old.
At King's College, our pupils study the English National curriculum, which is globally recognised as one of the best educational systems. Pupils learn through hands-on practical experiences that aim to enrich the whole child's growth. A British education gives our alumni the best opportunities to work in challenging and interesting careers all over the world. We believe the fundamental values that they learn while at King's College will also help them to have happy and fulfilling family lives.
More information about international schools in Frankfurt/Rhein-Main.
Weitere Informationen zu den internationalen Schulen in Frankfurt/Rhein-Main.